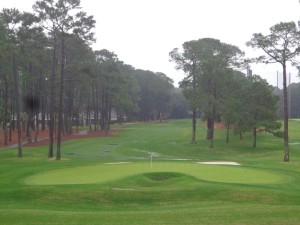 SEA PINES PLANTATION is ready for the PGA Tour to come to town this week. After last week at the Masters the professionals are up for a relaxing week as well. Sea Pines is going through a $65 million dollar renovation and it's top golf destination. Go online and visit Seapines.com and plan your next golf trip to Hilton Head Island. Great Golf.      _____________________________________________________________________
If you love golf you always head into Masters week thinking it should be a great week, and golf season is here.
I left Masters week thinking it wasn't a great week, and golf season left town for the winter here in Chicago as snow fell for two straight days at the ball park.
When Rory McIlroy made a hole-in-one on Monday, it was easy to think the fireworks had started for a great week.
Not much happened on Tuesday, but again there was a slew of Hole-in Ones on Wednesday in the Par-3 Contest. In fact nine of them including two of them on back-to-back shots. Now I'm thinking here comes an incredible Masters. Then sizzle turned into fizzle, as in fizzled out.
We all knew Arnold Palmer would not hit a tee shot on Thursday, that was no surprise. But then the professionals had trouble hitting tee shots as well, at least ones that found fairways.There was no shortage of missed two foot putters either.
Defending Champion Jordan Spieth had the championship in his pocket for 64 holes, then he didn't making a Quad-Bogey 7 on the Par 3-12th in the heart of Amen Corner. Spieth then ended up finishing T-2 with Lee Westwood, who still hasn't won a major.
Danny Willett (who you ask) did win, yes Danny Willett from England became the third player in six years to win the Masters in their second visit to Augusta, along with Spieth and Charl Schwartzel in 2011. Actually for those of you who don't know Willett, he just made it in the field, but in the last couple of years has turned in several good finishes at the bigger tournaments.
Still your asking, Danny Who ! OKAY, I get it. You didn't have Willett in your pool and after getting your tail kicked in the NCAA Men's hoops pool, you were looking for some redemption at the Masters.
Well I won my NCAA hoops pool and I was still looking for another win at the Masters. Hello Bubba and Hello Rory. Only McIlroy could make seven birdies in the final round and never see red numbers on Sunday, after being in 2nd place at the start of Saturday.
First up congrats to Willett on the win and Green Jacket. Plus now likely a birth on the Olympic team and a Ryder Cup team as well.
Danny Willett, I know you think he is the Danny from Caddyshack and he finally grew up, that Danny right ? Um No ! not him either.
What happened to all the guys who were supposed to win ? Well most of them didn't show up looking ready to win, and played more like they were ready to go home by Friday. Yes that old saying on Friday night about the tournament being at the airport has some merit here, and no not Troy Merritt because he made the cut and played well.
Rickie Fowler, Phil Mickelson didn't look Masters ready and neither did Jason Day after the first 8 holes of Round 1, or Bubba Watson by the Back-Nine on Thursday. Sergio Garcia started off okay and then turned into Sergio at a major, as the golf gods just continue to torment him.
Dustin Johnson hung around, but the putter let him down again, and again, and again, which in-itself sounds more like Ernie Els playing the first hole. Els could have borrowed a line from the late Seve Ballesteros on how he 6-putted the first hole in Round 1. I miss, I miss, I miss, I miss, I miss, I make. Jason Dufner, Ian Poulter, Zach Johnson and Jimmy Walker were gone early or never in contention.
Zach, I know you are laughing all the way to the bank, but how are those new clubs working out for you ?
Brandt Snedeker and Justin Rose made their share of birdies, only to bounce around close to even par and then back to green numbers. Yes green numbers, it's Augusta and it's Masters week.
Whether it was pin the placements or weather conditions, most of the big guns played like pop guns for 2 or 4 days.
So Rory, who is this Danny Willett guy, I don't think I took him in the pool.
OKAY, I didn't have him in the pool either, but I had Louis Oosthuizen in the pool and he made a really cool bank-shot, hole-in-one in the final round. I didn't have Soren Kjeldsen in the pool either, and I don't know who he knows because he got far too much TV time during the back-nine on Sunday. But I suggest we learn his name because he will probably be on the European Ryder Cup Team come September.
I do know that Bernhard Langer, low-amateur Bryson DeChambeau and Rory McIlroy didn't get enough TV time on Sunday.
I do know my definition of drama during the back-nine on Sunday at the Masters, is not watching Spieth make 7 on a Par 3 after chunking two balls into Rae's Creek.
Hey Rory, didn't you say this would be a great Masters without Tiger Woods being there hogging far too much TV time while shooting 80 in round 1 & 2 and missing the cut ?
Actually I did, and while I didn't miss Woods hitting out of them for two days,  I saw Spieth do it more times than I do in any given round. I guess the driver face Spieth broke on Wednesday, might have hurt him more than we thought.
The Gog Blog returns tomorrow, and the U.S Open at Oakmont which returns in two months can't get here fast enough either. I'm ready for some real drama. RS