LINKS & TEE'S your hitting bay is open and waiting for you. Until all the courses open up for the summer, get to Links & Tee's the award winning facility on Lake Street in Addison. See Addisonparks.org or call (630)-233-7275. THE HALFWAY HOUSE at 555 S. York Rd. in Elmhurst is your home for simulator golf. Play over 90 courses from around the world, and enjoy the daily specials. So beat the cold, beat the heat, beat the rain and jump inside to the Halfway House. Make your tee time at (331)-642-8050, or see Halfwayhousegolf.com and try the daily specials like Half price beer on Thursdays.    _____________________________________________________________________
The Gog Blog has been saddened by the passing of Kapalua's Gary Planos, an Evanston native who went on to caddie at Westmoreland Country Club, and then become an Evans Scholar. Planos went to the University of Illinois before heading off to Hawaii and work his way up at Kapalua.
While service information is not yet official, it appears there will be a memorial service this week in Maui by the Kapalua resort. More details as we get them. I recommend the tribute by Global Golf Post's Jim Nugent, posted at Globalgolfpost.com.
The summer season is right around the corner in KOHLER Wisconsin, and while the PGA is gone, there is plenty for you to come up and enjoy in the months ahead.
The Restore and Explore specials at the Kohler Waters Spa will run through April 28th, receive $50 dollars off on facials, body services and hydrotherapy treatments. Get your body in shape for golf season, it's about ready to tee off.
Need more, well DESTINATION KOHLER has more on and off the golf course, and coming April 29 to May 1 is the Kohler Festival of Beer that has premiere brewers in from around the country. Beer classes and live music goes along with Wisconsin's finest foods.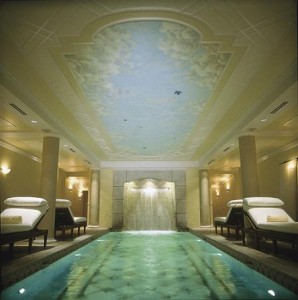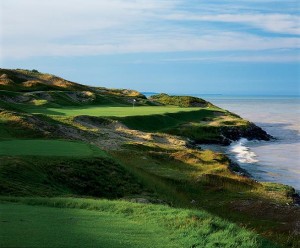 The soothing Kohler Waters Spa (L). Shipwreck a Par 3 hole on Whistling Straits one of the top golf courses in world according to multiple golf publications, will open for the season before long. The Golf Escape Package is great way to play the highly rated Pete Dye designs early in the season before peak rates apply.
MEMORIAL DAY WEEKEND PACKAGE May 27 through May 30 enjoy some of Kohlers more enjoyable pastimes, with some great discounts attached. THE CHEF'S TABLE a new experience that will show you what a real 3-Course meal is.
Details at Destinationkohler.com or call (888)-293-7337. See more on Facebook/Twitter.
McWethy's Tavern at Mistwood Golf Club is open all year round.
The McWethy's Tavern Executive Chef Mark Angeles and the crew with be at the Romeoville Beer & Bacon festival this Saturday night April 2nd, at the Edward Hospital Athletic & Event Center on Rt. 53. To purchase your tickets visit Rvbeernbacon.com.
McWethy's Tavern is hosting it's first Craft Beer Dinner Thursday April 7th from 6:30 to 9 Pm. Four courses of food and then the beer. Space is limited. McWethystavern.com (815)-254-7001. The Mistwood Golf Club designed by Ray Hearn is expected to open in early April.
AIR FORCE ONE has continued it's release of the new clubs, with the release of the AFX Game Improvement iron set.
The new set has similar modifications that were seen on the AFX Pro Series irons. that includes the thinning of the top line and the sole for forgiveness.
The AFX Improvement Irons now have three different club heads within the set. The 3-4 Irons have Nitrogen Charged hybrids, have 17-4 stainless steel heads that are pressurized with Nitrogen. They have FFT Face Flex Technology that helps power the ball by flexing inward at impact before springing forward to launch the ball at a higher velocity.
The 5-7 Irons have a Nitrogen Charged, 431 Stainless Steel clubheads that are hollow in the middle, which according to Air Force One delivers more power and a solid feel. the oversized clubface, along with a progressive offset that helps golfers get the ball airborne.
Irons 8-PW are cavity back, 431 Stainless Steel clubheads that have a deeper undercut cavity that will help ease the ball in the air for more consistent distances. Larger clubfaces help golfers get more loft on the ball.
"One advantage we have with this set compared to the competition is our Nitrogen Charged Technology," said AFO President Ross Kvinge. Look for more information online for Air Force One golf clubs.
The Woman's Western Golf Assocation (WWGA) will hold it's 117th National Amateur Championship in June of 2017 at the River Forest Country Club in Elmhurst.
The WWGA will hold their national amateur championship this summer as well. At the Dayton Country Club from June 20-25. With the WWGA national junior championship at the Blackhawk Country Club in Madison. For more details please visit WWGA.org.
                                                                 Links Capital Advisors has just announced that one of it's new listings the Pacific Golf Centers in Santa Cruz California, has just announced a new asking price of only $499,000. This property has a positive cash flow. For more information contact Chris Charnas at chris@linkscapitaladvisors. A great Northern California location.
The wait is over. Right now you can go to Cog Hill and order the new Under Armour Golf Shoes.
For information on tournaments and all of the new and returning memberships, contact Cog Hill at online at Coghillgolf.com or call (866)-COG-HILL.
Is your junior golfer signed up yet for the Cog Hill summer leagues, call today. Live north call Pine Meadow in Mundelein (847)-566-GOLF.
FOXFORD HILLS in Cary has two fun events coming up. The 4-man spring scramble this Saturday April 2nd, starting at 7 AM. Okay, need a later start time, how about night golf on Saturday May 14th, teeing off at 5:30. Call (847)-639-0400 or online at foxfordhillsgolfclub.com.
ANTIGUA based in Peoria Arizona has announced it's line of 2016 Windshirts. The Spring 16 collection is on the market. Styles include the Element Vest, the Coup and the Paragon. To see the styles or to order visit Anitgua.com or ShopAnitgua.com/
GUSTBUSTER the worlds Smartest Umbrella, and leader in wind-release technology is in the new again. Gustbuster has been seen on the campaign trail in the hands of golf course owner Donald Trump. For more information on the leader in golf umbrellas see GustBuster.com or call (888)-GUSTBUSTER.
AVEO golf wear for BIG and TALL men created by Darius Hicks and Randy Peaches has now launched the new Hero-Short Sleeved Golf Polo ($74.99). The new Hero does everything a golfer needs and is available in red, white and blue. You can order the new Hero Polo at Aveogolf.com. Or online at Dicks Sporting Goods, Golfsmith or TGW.
THE GAYLORD GOLF MECCA is back with FREE GOLF on the weekend of April 22nd-24th. This includes free golf at places like Treetops Resort and the Ostego Club. For more information on all course and hotels that are participating, along with how to obtain FREE GOLF see Gaylordgolfmecca.com/free-golf-weekend-21/.
BIG 3 Partner Len Ziehm has the Ziehm machine rolling again, as it steams towards Chicago.
Ziehm has been to Raleigh-Durham, and Pinehurst North Carolina, before he turned east and headed to the Outer-Banks on the ocean.
The golf that he has experienced in the past two weeks, and the way he has been rolling down the fairways, is posted at Lenziehmongolf.com.
BIG 3 partner Tim Cronin's Illinois Golfer is out. See Illinoisgolfer.net.
FOR ALL THE DETAILS OF what's happening at DuPage Golf, see DuPagegolf.com. Oak Meadows might be closed renovation, but plenty is going on at Maple Meadows and Green Meadows.
The Gog Blog returns later this week, stay clicked in. RS