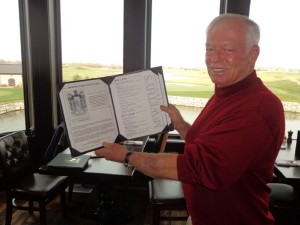 MCQ'S DOME in Bolingbrook is your home for golf, horse racing, and fun times in the sports bar, an official Blackhawks Bar. Visit Mcqsdome.com or call (630)-739-7600 for golf or lessons with the Mistwood Golf Club staff. Jim McWethy invites you to enjoy McWethy's Tavern open year round at Mistwood Golf Club in Romeoville. This new restaurant is part of the new Mistwood Clubhouse, and has a golf and fine dining mix. Visit Mcwethystavern.com or call (815)-254-7001 and make your reservation today.         ______________________________________________________________________
Titleist has created a new stand bag called the Titleist 4UP StaDry.
The StaDry is a lightweight waterproof performance bag for the dedicated golfer. The bag will be available in golf shops this month.
Weighing just 3.5 pounds, it is the lightest bag that Titleist has ever created. The name 4UP, is in reference to the bags advantages.
Lightweight, Durable, Waterproof, Titleist. "We are continually improving our designs to ensure that we meet and exceed the needs of the dedicated golfer. The new 4Up StaDry stand bag represents the ongoing commitment to delivering the highest performing products throughout the Titleist Golf Gear Line," said Jane Casanta, Director of Marketing, Titleist Golf Gear. "The development of 4UP concentrated on cutting-edge design technologies and materials, quality workmanship and an extensive PGA Professional and player testing process. The result is a stand bag that provides performance distinctly worthy of the Titleist script."
The 4UP design was created with a lightweight, durable nylon waterproof shell, that includes a three-way divider, foam-padded straps for the most comfort and cushioning possible and storage space. The bags aluminum legs are tough and durable, but are lightweight. A new Active Recoil Stand System, allow for an easy activation.
What the PGA professionals are saying.
Andy Fisher (Head Professional Kansas City Country Club) "The 4UP StaDry stand bag, is extremely lightweight and still so structurally sound and sturdy. It is the golf bag that symbolizes the high quality standards and performance by Titleist."
The 4Up Stand bag is one of 15 models of Titleist golf bag models in the 2016 Titleist Golf Gear Line.
The new 4Up StaDry golf bag ($245 MSRP) is available this month in pro shops and golf retail stores. The bag comes in four colors, Black/Red Charcoal/Orange, Charcoal/Lime and Navy/Blue.
For more information see Titleist.com