LINKS & TEE'S is one of the few Year-Round Golf Facilities in the Chicago area, this multi award winning property can help you improve and enjoy the game of golf. So why not enjoy the golf dome until the outdoor range and golf course open for the summer. See Addisonparks.org, or call (630)-233-7275 for more information. The HALFWAY HOUSE at 555 S. York Rd. next to HB Jones is the home of Simulator Golf where you can play over 90 courses from around the world, leagues, lessons, and daily specials.  
 Make your tee time by calling (331)-642-8050 or visiting the Halfwayhousegolf.com       _____________________________________________________________________
There is a new golf experience that is catching on in a big way, and it's Top Golf.
But don't let the name fool you, it's golf alright but it's more than that. Top Golf is place that's, a top of line fun experience.
If you want golf, it's there. So are the pool tables, foosball tables, the conference rooms, the bars, the big screen TV's and more.
The Top Golf staff will tell you that perhaps even up to 65% of their customers are not regular golfers, but then again Top Golf is providing an experience that allows people to get a good dose of golf, and is baiting the hook for many to head to a real golf course, pick up the clubs and try the real game.
The golf game at Top Golf is a bit different that what you get at the local golf or country club.
In some ways it might be more like bowling, you have your bay and everyone wait's their turn. In bowling you could throw 20 balls, if your not making strikes.
At Top Golf you hit 20 balls, 5 at a time and you do this 4 times.
But unlike bowling or golf on the course, there is more than one target to pick from, in fact there are several. If you miss them you score a big fat zero, or depending on how close you get to the pin, you can score more points.
While hitting the fairway so to speak is not worth any points at Top Golf, it is a way to finding out if your swing is online for that next round at the golf course.
At Top Golf you do aim for the targets, just do not aim for the sand traps, because like in real golf, you do not get any points for that.
Top Golf has two locations in the Chicago area, the original one in Wood Dale on Thorndale Road, and the new location that opened last Labor Day off of Rt. 59 and Rt.88 in Naperville. The Naperville location since it's newer, has more of the look the company is striving for. People who enjoy Top Golf are currently waiting for the new state of the art Top Golf, a 4-deck facility to open alongside the MGM Grand Hotel in Las Vegas, that is expected to be operational this spring.
The games and there are several to choose from, test all of your golf ability.
Top Golf the main game, allows for you to score points by hitting your shots with golf balls that include microchip technology, into targets that record your points. The more accurate you hit your shot and the longer the shot flies to further away targets, the more points you get.
Some of the other games include Top Scramble which is just that, breaking your group into teams and playing the game in a scramble format. TopChip is like a short game area game, where you play to the closer targets. Other fun formats include TopScore, TopPressure, TopDrive (for you big hitters) and TopShot.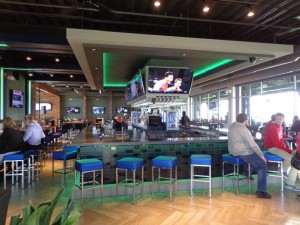 The Top Bar at Top Golf, along with the Green-Chili Mac and Cheese Burger is a house top favorite by many, (Yum).
The golf games can be played at any of the three levels of hitting bays that Top Golf has.
But when you move about the Top Golf facility, you can enjoy your favorite beverage at the top bar, and eat top level food, from what's called the scratch kitchen (meaning all food is made on freshly on site and from scratch).
Business meetings and business events are quickly becoming common place at Top Golf, along with banquets, weddings and more. For more information on special events at Top Golf in Naperville, contact Jill Plotke the sales manager at (331)-305-2446. Top Golf in Naperville is located at 3211 Odyssey Court. For further information see Topgolf.com.