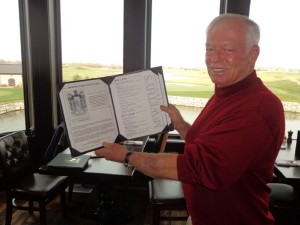 THE HALFWAY HOUSE is your home for Indoor Simulator Golf, play over 90 courses from around the world, as you enjoy great food and beverage. Located at 555 S. York Rd. in Elmhurst, the Halfway House offers daily specials including half price beer all day on Thursday's. Lessons, leagues, play as a single or with a foursome, (331)-642-8050 or go online to HaflwayHouseGolf.com. HalfwayHouseGolf, is located next to HB Jones. OWNER JIM MCWETHY shows the menu and his family's coat of arms at McWethy's Tavern inside of Mistwood Golf Club on Renwick Road in Romeoville. Even when the Mistwood Golf Club is closed for the season, McWethy's Tavern is open year-round. Enjoy fine and casual dining with great views or during the winter month snuggle up next to the fireplace. The bar has TV's so you won't miss the big game. So as the snow falls, come on out and eat at McWethy's. Call (815)-254-7001 or McwethysTavern.com.  _____________________________________________________________________
Golf can be played in all sorts of weather, so every time you head out on the course you need to be prepared for what Mother Nature might do in the course of your round.
These days outerwear manufacturers are more challenged in the designs and material they create to give a golfer everything he or she might need.
First off if your jacket is too tight it will be hard to swing the club, second if pants are too tight it will be hard to walk, or bend over to pick up your ball, or put a tee in the ground.
Rain can come on warm days, so it's important that you can stay dry while not getting to hot in rain wear or outerwear designed to keep you dry. When a cold front moves in you want something thin enough to swing, and something that can keep you warm.
Before you tee off, or after your done, you might want something you can wear around the clubhouse or practice area. Some golfers ask more than that, they want style that can be worn on and off the course, and away from the course. Colors are important too, and for both men and women.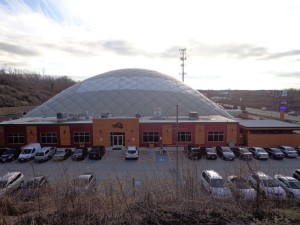 THE SNOW IS BACK, take your game inside to the best domes in town. MCQ's Dome on Rt. 53 in Bolingbrook, open 8 Am daily. Get a lesson from the Mistwood Golf Staff that teachers there all winter. Play the horses in the OTB, watch the Blackhawks in the Official Blackhawk Bar, MCQ's Dome (630)-739-7600 for the golf dome. (630)-739-1592 for the Bar and Grill. THE GRAA AWARD WINNING Links & Tee's Golf Dome on Lake Street in Addison, get a lesson from the staff of seven teachers, or chip and putt in the expansive short game area's. See Addisonparks.org or call (630)-233-7275 today.         ______________________________________________________________________
Stepping up to meet all those challenges and more is the Sunice Company based in Canada. Even though Sunice is in Canada, they are making headway with golfers in America. Sunice does not pay players to wear their clothes on tour, but they have more players wearing their clothes on tour than any other brand (Per the Darrell Survey).
Vice President of Sales Derek Faith says that the company takes pride in putting out the best possible product it can.
"The fact that tour players are wearing our outerwear without us paying them tells you something," says Faith. "More players are inquiring about our products all the time."
Faith showed off a big a supply of the product line at the show, saying that much of it would be released later in the year, and be in the pro-shops and golf stores in the fall.
Click here to hear the interview with Derek Faith VP of Sales for Sunice.
So if you need outerwear for on or off the golf course, visit your pro shop or golf retail store and ask for or ask to order Sunice. Sunice has not yet created a line for the junior golfers.