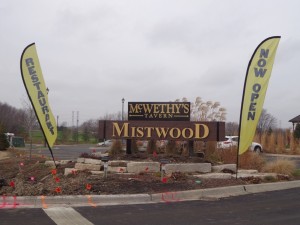 MCWETHY'S TAVERN AT MISTWOOD is open year-round even if the golf course and performance center are closed. Come out now and try McWethy's, a full sized menu awaits you. The Great Hall in the clubhouse is now booking events and this summers dates are filling quickly, so visit McWethysTavern.com or call (815)-254-7001. The award winning Links & Tee's Golf Facility will host it's final ladies night of the season tonight from 7-9 PM. $25 gets you 2 hours of hitting time, along with some appetizers, and drinks (water-soda-wine). Limited to 24 and you must be 18 or older to participate. The dome is open at 8 AM daily and 7 AM on Sunday's and it's closes at 10 PM from Sunday-Thursday and 11 PM on Friday and Saturday nights. Addisonparks.org for more information or call the dome at (630)-233-7275. 2015 GRAA award winner.            _____________________________________________________________________
Each year golfers are looking for more and more from the golf ball they play. If there is one company that lives up the demand and expectations of their customers, it's Titleist the #1 ball in golf.
2016 will be no exception as Titleist at the recent PGA Merchandise Show in Orlando did announce improvements to their golf ball line.
The golf balls getting some new 2016 upgrades include the NXT Tour, the NXT Tour S, and the Velocity golf ball.
"At Titleist, our goal is always to deliver the best performing product we possibly can, and what the new NXT Tour, NXT Tour S and Velocity represent are the best performing golf balls in their respective categories," said Michael Mahoney, Director, Golf Ball Product Management. " When we look at the results of our extensive robot and player testing, we are exceedingly confident that golfers will experience new Titleist golf ball models that out perform their competition and deliver on their meaningful performance improvements relative to distance, short-game performance and soft feel."
The new Velocity has been re-engineered with it's largest and fastest core yet, this produces a more explosive initial velocity for even longer distance.
The Velocity LSX core technology will deliver faster ball speeds, which produces more distance on all full swing shots.
The low-spin Velocity gives your shot a higher trajectory for more carry and roll. A thinner NAZ2 cover will give the golfer more feel for short game shots.
Click here to hear our interview with Michael Mahoney of Titleist, Director of Golf Ball Product Management.
The new NXT Tour has a larger center dual core that produces a lower spin, but a faster ball speed, that should improve both driver and iron distance. A Fusablend cover adds excellent shot stopping control to hold the greens you hit.
The NXT Tour S golf ball is the NXT Tour with a softer feel. The ball is made with a softer compression core and a softer cover, and it makes the new NXT Tour S, the softest model yet. This while continuing great distance and better short game performance.
These three new models the NXT Tour, NXT Tour S and Velocity became available in golf stores and pro shops as of late January.
Pricing is NXT TOUR and NXT TOUR S is $ MAP 34.99 Dozen and MSRP $45/ per dozen. Velocity is also MAP $34.99 and MSRP $45 per dozen.
NXT Tour S is available in white and in High Optic Yellow. Velocity is available in single numbers #1-2-3-4 or some double number combinations #00-22-77-99.
For more information on Titleist and the Titleist golf ball line and what's new in 2016, please visit Titleist.com. Golfers are also encouraged to join TeamTitleist via the Titleist website for more updates as they happen.