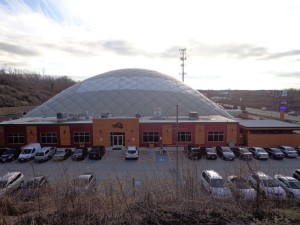 THIS IS IT… GO HIT IT GOLFERS. With snow reportedly on the way, take your game inside this week, and go to the best three locations in town for indoor golf. McQ's Dome on Rt.53 in Bolingbrook allows you to work on your golf game, play the ponies in the OTB, and watch the Blackhawks in an official Blackhawks bar, that's loaded with great food and a wide variety in choice of beverages. Visit Mcqsdome.com for more details. If you would like to play over 90 courses around the world, try the Halfway House at 555S. York Rd in Elmhurst call (331)-642-8050 and book your tee time today, lessons, leagues, singles play and more. Links & Tee's Golf the award winning facility on Lake Street in Addison. Links & Tee's is a Double-Decker golf dome, with full sized chipping and putting area's. Call (630)-233-7275 for more information. Hit it inside all week long.   ______________________________________________________________________
What's new is old, and the Illinois Open will be on the move for the third time in three years, as moves back to an old home at the Royal Fox Country Club in St. Charles. Royal Hawk also located in St. Charles will serve as the second course for the championship.
"We are thrilled to announce the return of the Illinois Open to Royal Fox, and it's companion course, Royal Hawk, for the 2016 championship," said Illinois PGA executive director Carrie Williams. "We are confident these two courses facilities are going to help us continue to host an exceptional championship experience for top amateur and professional competitors in the state of Illinois."
"We are so excited and proud that the Illinois Open Championship is returning to the Royal Fox C.C. for the eighth time," said John Weiss, CEO of the Royal Group, which owns and operates both facilities. "This years Championship also marks the 25th anniversary of the first Illinois Open hosted at the Royal Fox C.C."
The starting field for this years Illinois Open will be 258 players, that are made up of players who qualified from one of the seven qualifying events that will be held in June, and players are who are exempt from qualifying.
The first two rounds will be held July 25 and 26, and following the 36 hole cut, the final 18 holes will be contested at Royal Fox on July 27th.
"It's exciting to be returning to a long-time host with so much history in just the second year of a new format," said Williams. "Every decision we make in the planning and administration of the championship is made to provide the best tournament experience for the competitors. having Royal Fox and Royal Hawk as hosts in 2016, continues to achieve our long-term vision and goals for the Illinois Open."
The 67th Illinois Open returns to Royal Fox for the 8th time and for the first time since 2001. Only the Glen Club has hosted the Open Championship more times (9) in the history of the championship.
"The golf courses were uniquely built to be true tests of championship golf," said Weiss. "The participants will love the look, layout and feel of both Royal Fox and Royal Hawk, as well as enjoy their experience at the Royal Country Clubs. It's a great opportunity for the St. Charles Area. The community has a great young fan base and the Illinois PGA's marquee championship will provide great exposure to our many young fans of golf."
Royal Fox was originally designed by Dick Nugent, but the par 71 course that plays to 6,816 yards has gone through several changes since new ownership came on board in 1999. Golf holes, practice facilities and the clubhouse have all had improvements. Royal Hawk sits on 180 acres and is a par 72 course that plays at over 6,700 yards.
The Illinois Open Championship is open to professionals an amateurs with a handicap of 10 or less who reside in the state of Illinois.
Qualifiers for the open are at.
#1 June 8th at Maple Meadows in Wood Dale. #2 June 14th at Bartlett Hills in Bartlett. #3 June 16th at Effingham CC in Effingham. #4 June 20th at Bloomington CC, in Bloomington. #5 June 22nd at Deerfield GC in Deerfield. #6 June 27th at Inverness G.C. in Inverness. #7 June 30th at Bolingbrook GC in Bolingbrook.
Registration begins on March 1st at IPGA.com.