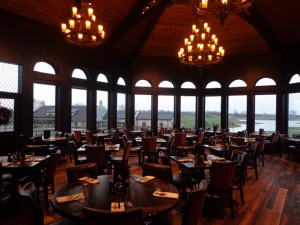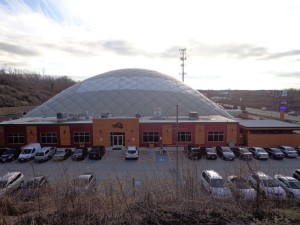 MCWETHY'S TAVERN now open year round in the new Mistwood Golf Club clubhouse even if the golf course is closed. Mistwood GC is located on Renwick Road in the town of Romeoville. McWethy's Tavern is complete with a full menu that ensures everyone can find something to eat, and a beverage to enjoy. You can sit over-looking the golf course, next to the fireplace, near or in the bar where you watch the big game of the golf tournament on the new HD-TV's. When your ready to dine in style year round, call McWethy's and make that reservation today at (815)-254-7001 or Mcwethystavern.com. MCQ's Dome also part of McWethy Golf has something all winter long for every one, work on your golf game, get lessons from the Mistwood Staff, stop and play the ponies in the OTB, and then enjoy the Blackhawks at an official Blackhawks Bar that offers great food and drink. So call McQ's Dome in Bolingbrook at (630)-739-7600 for the golf dome or (630)-739-1592 for the bar and grill. Visit McqsDome.com for more information ______________________________________________________________________
The Cantigny Golf Academy in partnership with Callaway Golf Fitness, is now offering a six-week Golf Fitness Training Program.
The program runs under the direction of Dr. Paul Callaway, the Cantigny director of golf fitness at the Cantigny Golf Academy.
The sessions are for golfers of all skill levels, that are over the age of 18.
There are three series of weekly classes this spring.
Series 1, is on Thursday Nights from March 3 through April 7 (7:00-8;30 PM).
Series 2, is on Wednesday Nights, from March 16 to April 20 (7:00-8:30 PM).
Series 3, is on Thursday Nights, from May 12 to June 16 (7:00-8:30 PM).
The program will provide basic introduction to physical conditioning for improved golf-specific postures, balance, flexibility and strength. Dr. Callaway will lead each class that has a limit of 6 students per class through a training progression.
This program will increase full-swing mobility for faster swing-speed power and distance. It will improve your ability to have solid-shot making on a more consistent basis. Learn mind-body-swing performance secrets of the PGA Tour professionals. Build a stress-free swing the reduces injury potential.
The cost of the six-week program is $300. To register or request more information, golfers should contact Callaway Golf Fitness at (630)-567-7572 or you can email Paul@CallawayGolfFitness.com. You need to register at least 5 days before thestart of the class.
Your fee includes weekly training materials and copies of the three ebooks by Dr. Callaway, The Secret to Achieving, Your Ideal Golf Swing, and the Winners Image.
Classes are held at the Callway Fitness Center inside the Cantigny Performance Center on Mack Road in Wheaton.