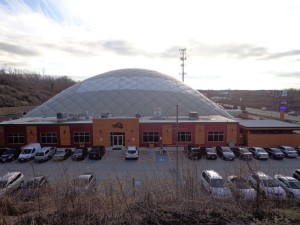 MCQ's Golf Dome Rt. 53 in Bolingbrook, and Links & Tee's Golf Dome on Lake Street in Addison, both open today. MQC's until 3 PM, Links & Tee's until 4 PM. Bot are closed on Christmas Day and both will be open first thing on Saturday morning. Golf Away.       ______________________________________________________________________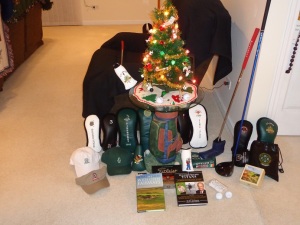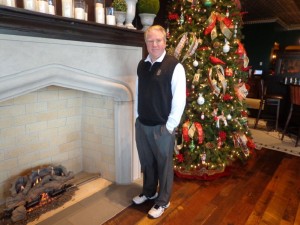 Yes the holidays are upon us, on left Throw Back Thursday from 2014, on Right by the new Christmas Tree at McWethy's Tavern in Mistwood Golf Club Romeoville.
 The sign at Cog Hill says it all.
Merry Christmas everyone. Some final thoughts on Christmas and Golf. If you get new clubs tonight or tomorrow and are anxious to try them out. You can on Saturday, Cog Hill will have at least courses 1 & 3 open and a few courses will be open as well. Call the pro shops before going. It will be chilly this weekend, but with no snow on the ground some clubs will let you play.
If you get money or a gift card towards getting clubs or shoes etc., it isn't mandatory to spend it all this weekend. If your budget gets you a deal that works for you, by all means get what you want. But remember the PGA Merchandise show is coming up late in January, and many new products will be available for order or in the stores and shops right after the show. So you can wait a little and still have the new stuff by the time your course opens in late march or early April.
Finally do thank the people in your life who have found you golf gifts, they do care if they are getting you golf gifts. Merry Christmas. The Gog Blog returns on Saturday.
Merry Christmas from all of us who make up Golfers on Golf. Ed Stevenson, Mike Munro, Bill Berger and your's truly, Rory Spears