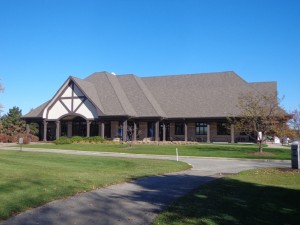 Tomorrow in Chicago, Outdoor Golf in December on a 60 degree day, Maple Meadows is open. Indoors in Bolingbrook MCQ's Dome is open, golf, sports bar and OTB, Play the Ponies. For outdoor golf DuPageGolf.com. Go inside and golf McQsDome.com.       ______________________________________________________________________
You might not have heard of the newest golf place in the Chicagoland area, it's called Halfway House indoor golf.
Halfway House indoor golf is located at 555 S. York Street and it's part of the HB Jones Restaurant Building.
It hasn't been open long, but owner Susan Phillips says you will be hearing more from them soon.
But why wait ? You can go over there today and play some indoor golf. Yes bring your own clubs if you have them, but don't worry your covered if you don't. Where do you want to play, you have your pick of some 90 courses from around the USA and a few more from around the world.
If your hungry or need a beverage while teeing it up at Halfway House Golf, the good news is that all of that can be brought right over from HB Jones.
So why not enjoy the indoor concept of golf.
How it works. When you gather around the table behind your simulator with your group, it's almost like going bowling. Gather around the alley,let everyone take their shot and then it's your turn again.
Scoring, you don't even need to worry. The simulator does it all, so when your not hitting, enjoy the conversation with family and friends. Check out the game on the TV's all around you, enjoy your burger, beer and other treats. Not a beer drinker, the freshly made malts look really tasty and the junior golfers in your group will enjoy them.
If you want to play local courses, you can jump on and play Dubsdread or Course #4 at Cog Hill in Lemont.
Want to play a U.S Open course. You can do that because there are several, like Pinehurst No.2, Bethpage Black, Pebble Beach. When your done at Pebble Beach, dial up Spyglass Hill that sits just down the street from Pebble Beach out in Carmel.
So if your ready for a winter golf workout, go hit some balls in the dome, then head over for your match with friends at the Halfway House on York Road in Elmhurst. Part of the DB Jones Restaurant. Play solo, or bring a partner or a foursome or more, anyway amount of players will be fun.
HOURS: Sunday 7A-9PM, Monday 3PM-9 PM, Tues. Noon-9 PM, Wens. Noon-9 PM, Thurs. Noon-10PM, Fri. Noon-11PM, Sat. 7A-11PM. For more information you can call (630)-331-642-8050 or visit online HalfwayHouseGolf.com.