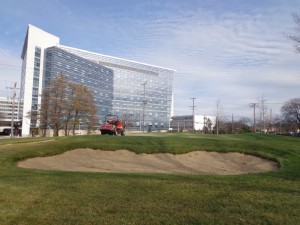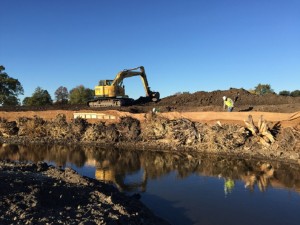 The renovation at Arlington Lakes Golf Club is taking shape (L) and work on Salt Creek and the Oak Meadows Golf Club is moving forward. See our stories from the past couple of days on the Chicago area's biggest golf renovations, hear from the architects. ______________________________________________________________________
Bette & Court, a premier women's golf apparel company, has released it's spring of 2016 women's apparel collection. Bette & Court is a wholly owned subsidiary of of Sport-Haley Holdings.
" Spring is all about options, which is why this collection is fresh in detail and loaded with color," says Justina Cordova-Bottomley, Senior Designer at Bette & Court. "There are styles and prints to suit everyone, with plenty of UPF built in. Simply put, we have you covered."
Bette & Court's lifestyle brand covers the gap between active and everyday apparel. It's a new approach to where athleticism meets style or fashion. It's practical and multisport. This area that is constantly changing, is what drives Bette & Court into new designs, fabric innovations and new cutting edge technology.
A new collection of Swing Polo is at the brands core. Bette & Court created the Original Sun Protection shirt with a mesh under sleeve. A lightweight texture and simple mesh underarm, create a UPF 50, while maintaining body temperature. It has two-collar choices and now available in 14 colors.
A new Swing Crew long-sleeve crew neck features fashion mesh detailing and thumb holes in the sleeves perfect for connecting with a younger audience. Last season the Swing Skirt was launched, and B & C calls it a great success to date. It will expand with new colors and the signature logo print.
Another new skirt for 2016, is the Twist/Twister 14″ pleated skirt with ribbon seaming and mesh under-pleated detailing, offered in solids and prints.
The new groups have unique pieces for each color story. White Night, Blue Crush, Red Hot and the Pink Lady.
"All of these pieces give you smart focused groupings to enhance your shop's Swing Collection. "The landscape is changing-we are smarter and more deliberate in our apparel choices," says Cordova Bottomley. " We want it all. Our color ranges are now adapting to this new market of fashletics, where athletic meets every day. Bette & Court brings a functional side to feminine fashion approach. We are performance lifestyle at it's best."
For more information on Bette & Court please see bette-court.com or SportHaley.com.