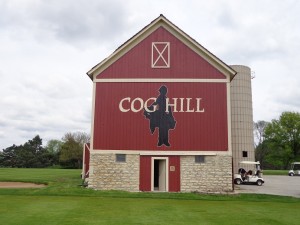 Antigua Golf Apparel ready for 2016, new colors, styles and more ShopAntigua.com or visit Antigua.com. The Black Friday Sale at Cog Hill is underway, Coghillgolf.com for more details. The Black Friday Sale at MCQ's dome in Bolingbrook starts at 10AM, this coming Friday, clubs, clothes and more. See Mcqsdome.com for more information.        _____________________________________________________________________
The first part of the Oak Meadows renovation plan is winding down for 2015.
This past weekends snow has brought things to a stop for the moment, but if there is a quick melt of the snow, a few more minor things can be done.
Architect Greg Martin spoke with Golfers on Golf about the first phase of the project, which was primarily work on Salt Creek that has flooded the golf course on many occasions.
Martin says that a vast majority of work planned for 2015 was completed. In spring of 2016, Martin and his team will get to work full speed ahead on the golf side of the project.
The Oak Meadows Golf Course is scheduled to be completed in fall of 2016, and after the grow in time is complete, the golf course should be ready to open in May of 2017.
Oak Meadows that is currently a 27 hole facility will become an 18 course.
There is not yet a time-table for a new clubhouse to be built, and a new clubhouse is not expected to be ready by the time the golf course opens.
Ed Stevenson the Director of Golf Operations fro the DuPage County Forest Preserve District will join us later this week, to speak more on the project.
Martin and Stevenson have spent part of the summer researching the history of the golf course, and how to preserve it at Oak Meadows. They have spent time looking for ways to make it one of the best public courses in Illinois when it's done.
Click here to to hear the interview with architect Greg Martin on the progress made on the renovation at Oak Meadows Golf Club.
A reminder to golfers. In 2016 both Maple Meadows and Green Meadows will be open all season long for golf. The clubhouse at Maple Meadows is now open for your holiday parties. For more information please visit DuPagegolf.com.