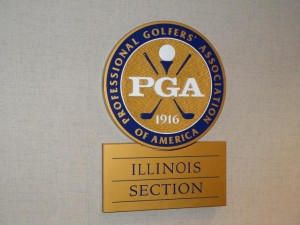 Congratulations to the Illinois PGA Section 2015 Award Winners last night at Medinah, including the Professional of Year Bill Abrams of Balmoral Woods. Tonight the Illinois Golf Hall of Fame Induction Ceremony at the Glen Club, welcome class of 2015, golf professionals Leon McNair, Jim Sobb, and H. Chandler Egan. Well deserved everyone.  _____________________________________________________________________
It's one of the biggest fall tournaments of the college golf season, and the University of Illinois came out on top at the Tavistock College Invitational with a team score of 1-over par.
Illinois shot 1 under par on the final day of the tournament to win by 4 shots. #1 Illinois had #10 Arizona State and #15 California right behind them for second and third place.
"This one of the bigger, more prestigious college events in the country, played on a difficult and tricky golf course," said head coach Mike Small. "The wind was really strong all three days and I thought our guys really persevered through that adversity. This tournament was a great test for us because it was a close one, we were a ways back to start out and Arizona State played close to the end. It's great for our team to compete at a tournament like that and earn the win by pulling away. To come away with three top-10 individual finishes is also pretty big, our guys really persevered this week and I'm proud of that.
Sophomore Nick Hardy carded a 3 under par 69 third round score to finish third in the tournament. Sophomore Dylan Meyer finished in sixth place. Senior Charlie Danielson came in tied for seventh place. Alex Burge and Thomas Detry both ended up in tie for 37th place.
The tournament saw 5 other ranked teams compete in addition to the three ranked teams that finished 1-2-3.
Illinois now prepares for the East Lake Cup on November 2-3, a match play event that will be shown live on The Golf Channel. Visit FIGHTINGILLINI.com for more details on the men's golf team.
For Illinois they won their second tournament in a row. Nick Hardy was named the B1G Ten player of the week, and Illinois moved back into the No.1 spot in the Golfweek Bushnell NCAA Golf College rankings, along with Auburn University, each school had 8 first place votes.