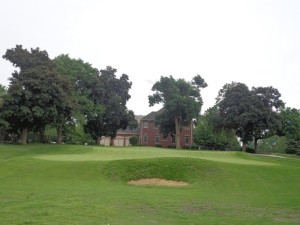 The Mt. Prospect Golf Club has reopened from the renovation that has restored it's classic history, play Mount Prospect today before winter arrives, call (847)-259-4200 to make your tee time. The American Club in Kohler, golf season has not ended in Wisconsin, see Destination Kohler.com. Pinehurst the home of American Golf, and famed Donald Ross masterpiece Pinehurst Course No.2. fall specials now available, visit Pinehurst.com. Pinehurst the home of the 2019 U.S. Amateur & 2024 U.S. Open.   ______________________________________________________________________
EDITORS NOTE: The Gog Blog finally got it's first round of golf in on Cog Hill #4 for 2015. It was too long in coming, but during the round there were some notable changes on the golf course.
After the round was complete, the Gog Blog caught up with Cog Hill owner Frank Jemsek in the main clubhouse, who filled in the blanks on some upcoming work happening on course #4.
The first sign of change was some tree removal on the par 3, 12th hole and then some major moving of dirt in the mounding on the left side of the par 3, 14th hole. But as it turned out, that wasn't all.
Jemsek says that architect Rees Jones who oversaw the 2008 renovation of the golf course made a recent return visit to look at the golf course.
As a result of the recent tour, Jones is looking at removing about 10 bunkers from the golf course. But some of them could be changed into grass bunkers, especially around the greens. Jones feels that grass bunker shots can be more difficult for touring pro's to get the result they want in tournament play, than hitting from the sand. grass bunkers are normally easier to play from for amateur players.
Jemsek added that all the bunkers will have the sand replaced with a better tour level sand, that should give all players a better lie in the traps. In the front of the bunkers there will be some reshaping done, to make sure players don't end up with downhill lies to uphill green surfaces.
There are some trees that have been or will be removed, a few are because of the Ash Borer disease, others are being removed to improve airflow around the golf course. Dirt from some area projects will be brought in to held redo some mounding areas, especially around Pork-Chop Hill near the 12th tee. The increased elevation will give galleries much better viewing, for when a professional tournament does return to Cog Hill.
Jones is looking at adding some forward tee's on the course, to give new angles for seniors, juniors, ladies, or beginners. Work has started already and will continue until completed.
The golf course was aerated nine days ago, and the greens are starting to look in great shape. Cog Hill still has some fall events to play in, visit Coghillgolf.com for details.