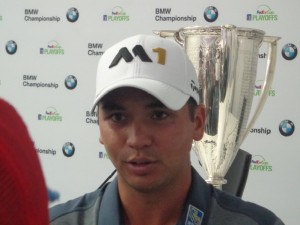 JASON DAY won the 2015 BMW Championship at Conway Farms, what a great week for Day, the PGA Tour, BMW and Western Golf Association. The LPGA UL International Crown, Chicago's biggest golf event in 2016, coming to Rich Harvest Farms in Sugar Grove ULCrown.com for details. The Award Winning Year Round Links & Tee's Golf Faciltiy is your place to play and practice, enjoy the $25 all day play and practice special, and be ready for the November opening of the Indoor Golf Dome. For more information call (630)-233-7275 online addisonparks.org located 880 West Lake Street.  _____________________________________________________________________
THE GOG BLOG by RORY SPEARS, Editor and Director of Content. Follow Rory on Facebook, Linkedin and Twitter @GogBlogGuy.
BMW Championship week is a great week for the Western Golf Association and the Evan Scholars Foundation. The championship is also the biggest money raiser for the organization.
Based on the great week at Conway Farms, with large amount of fans in attendance and Jordan Spieth's Hole-in-one, the scholars had a great week.
Why Spieth's ace made such a difference is because anytime a player makes a hole-in-one championship week a lucky scholar wins a $100,000 college scholarship. Spieth is not the first play to do this, he joins Sean O'Hair, and Steve Stricker as other players who have made their shot count for the caddies.
Later this year, BMW the WGA will select and award the Scholarship in Spieth's name to a student caddie who attend college in fall of 2016. Speith made his hole-in-one in Round 1, on the par 3, second hole, his 11th of the day, his shot was 184 yards with a 7 iron.
Actor Bill Murray and his five brothers who were caddies at the Indian Hill Club in Winnetka, that inspired the classic hit movie "Caddyshack" were inducted into The Caddie Hall of Fame during BMW Championship Week.
The Caddie Hall of Fame has been run by the WGA since 2007, and recognizes those who have devoted their lives to the game through caddying, or by supporting those who have caddied.
The Six brothers Bill, Andy, Brian, Ed, Joel, John, talked about their caddie days their family and golf during the ceremony.
"It's the ability to look at a player when he hits a bad shot and go 'ehhhh… it happens," said Bill Murray. "Then when he hits a good shot, you go, well that's who you really are."
Some of the other members of the Caddie Hall of Fame include, Chick Evans, Tom Watson, and Jack Nicklaus. Bill Murray joked," I'm afraid they will make me caddie again."
Murray's portrayal of Bushwood Country Club's groundskeeper Carl Spackler helped make Caddyshack one of the great movies of all time.
The Evans Scholars Foundation is currently supporting 910 caddies, most of them attend one of the 14 schools that have Evans Scholars Houses on campus.