A Special Golfers on Golf Thanks to the Award Winning Links & Tee's Golf Facility located at 880 West Lake Avenue in Addison, for their support of our coverage of the U.S. Amateur Championship, the Illinois PGA Section Championship, and the 2015 BMW Championship at Conway Farms. This fall enjoy the outdoor $25 all day play and practice special. Come November head inside to the golf dome one of the best in the Chicago area. See Addisonparks.org for more information or call (630)-233-7275.            _____________________________________________________________________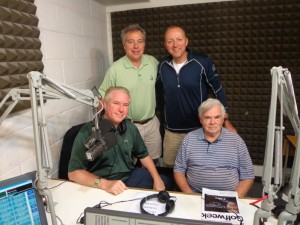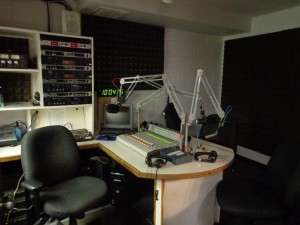 Golfers on Golf Radio Standing (L-R) Mike Munro & Ed Stevenson, Seated (L-R) Rory Spears and Bill Berger. (LEFT) In the Studio, (RIGHT) Fade to black for another year.
Golfers on Golf Radio ended it's 20th season on the air yesterday, after conducting it's 23rd show of the year. The longest 1 year run in shows history. Just 5 years ago, the show was only 15 weeks, now it goes for two months longer. Our final 60 Minutes of the 2015 golf season was a good one. Guests included Tim Rosaforte of NBC and the Golf Channel. Plus plenty of good golf talk about our favorite sport here in the Chicago area. If you missed the show, please visit this websites past shows area, and play it back.
The Golf Season never ends here at Golfers on Golf Radio and Golfersongolf.com. There is reason this is Chicago's No.1 Golf News website. We hope you will stay with us all fall, winter and spring until the radio show returns in 2016. Our group will spend the winter working on even better shows and content for 2016.
All fall and winter long, the golf news does not stop here. Renovation updates, equipment news, travel destinations, great holiday gifts for yourself or your favorite golfers. Hot news from the PGA merchandise Show in Orlando in January of 2016, the latest from Tinley Park and Rosemont when the golf shows come to town. What's happening at the domes. Previews and news on the tournaments in 2016.
Our partner in print Chicagoland Golf published by Val Russel, still has one more issue coming out this tear, and it should be in your favorite pro shops and golf retail stores by next week. You can follow everything Chicagoland Golf by checking it out online at Chicagolandgolf.net with news coming all winter long.
The first issue of Chicagoland Golf in 2016 will come out at the Chicago Golf Show in Rosemont late next February. The final issue will look back at the season we just had, and take a look at the 2016 golf season ahead. With a preview of the biggest golf tournament in town next year, the LPGA UL International Crown at Rich Harvest Farms, July 19-24, mark your calendars now.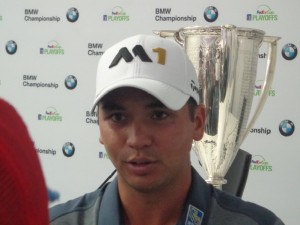 Jason Day at 22 Under Par, Won the BMW Championship at Conway Farms, he leads the Fed Ex Cup Point Standings heading into Atlanta and is the new #1 golfers in the World.
I must say the exhibition put on by Jason Day this past week at Conway Farms was amazing, we saw some great golf by 69 other players, and on pro-am day by Bill Murray and his family, now all in the Caddie Hall of Fame, run by the Western Golf Association.
While all the excess rain was not needed, the crew at Conway Farms did a great job to keep the course playable and the weekend rounds running on time. Over four inches of rain fell in less than 48 hours, making for a mess around the course.
It was amazing that some players thought there was no way another 59 could get posted on Wednesday, by Thursday we knew if it was going to happen again, it wouldn't be Jim Furyk, who had to WD after 6 holes in Round 1 with a Left Wrist Injury.
That left the task up to Jason Day, who ended with a 61 in Round 1, but Day had a 44 yard pitch for eagle on his last hole that would have made for a 59. He settled for par, and then went out and posted a 63 on Friday. Day's 69 on Saturday left him feeling like he shot 80, but after another 69 on Sunday he had won the Championship and he was the new No. 1 in the world.
The Gog Blog returns with more recap of the BMW Championship tomorrow, and takes a look ahead at the future sites.
Until then, A special thanks from Mike Munro, Ed Stevenson, Bill Berger, and myself on all the support we received this season on Golfers on Golf Radio. All of us are ready to go get in some serious time on the links until the snow falls, we hope to see you out there, and at the Dupage Forest Preserve Golf Courses, Bill's Pizza on Grand Ave in Franklin Park, and at Shepherd's Crook in Zion, my little hideout. Hit'em straight everyone, and Keep it in the Short Stuff, thanks Phil….RS