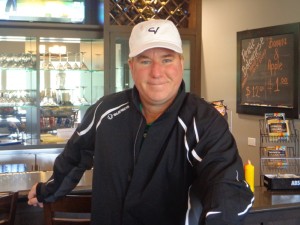 The Mt. Prospect Golf Club has reopened from renovation, this 1926 golf course now looks and plays like one of the great architects or the era did the restoration. The Mt. Prospect Golf Club where whats new is old, call for your tee-time today (847)-259-4200. See Dupagegolf.com and follow the link to the LIVE auction on the Oak Meadows Tee Signs, get your bid in today, it all ends on Monday, Don't forget the Rambo Scramble is coming to Maple Meadows in October, get your partner and sign up today. If you need some new golf outerwear, check out the new line of jackets and pullovers Sunice.com. Above Right, Rory Spears at the Glenview Park District newly redone 19th hole wearing the new Typhoon style jacket by Sunice Golf Apparel, Golf Cap from Mike Keiser's Sand Valley Golf Links, now under construction in Central Wisconsin.                             ______________________________________________________________________
The 93rd playing of the Illinois PGA Championship starts on Monday at the Medinah Country Club in Medinah.
Illinois Golf Coach Mike Small is again the defending Champion.
Last year at Stonewall Orchard Golf Club in Grayslake, Small won a record 11th IPGA Section title. In fact Small has won this championship so much, they could name the championship after him.
But the last time the championship was held at Medinah, on the No.1 course, the course looked a lot different because architect Tom Doak had not yet started his renovation. That renovation is done now, and there are some new holes, re-routed wterways, less tree's, white sand bunkers and more.
Small didn't win the last time the championship was at Medinah, current Westmoreland Country Club assistant professional Frank Hohenadel did. Hohenadel went low the first day and never looked back, and Smalls winning streak came to an end.
Last year Small won by 5 shots over Steve Orrick from the Country Club of Decatur, and his 16 under par, set a record for shots under par.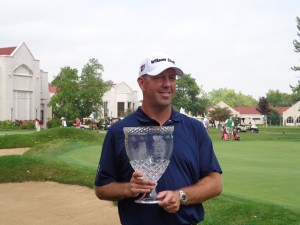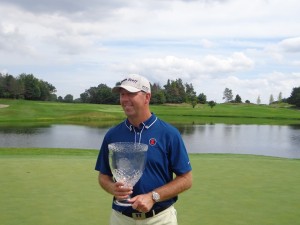 Small holds the trophy in 2013 at Olympia Fields, and in 2014 at Stonewall Orchard.
Small will tee off in Round 1, in the afternoon flight. There are seven past champions in the field, including Hohenadel, Jim Sobb fresh off a win at the IPGA Senior Open, Doug Bauman, Gary Groh, Dino Lucchesi, and Orrick.
Small comes into Medinah, after winning an IPGA event this past week at Cog Hill. Small and the other top  finishers will receive a birth into the 2016 Club Pro National Championship (PPNC) at the Turning Stone Resort in Verona NY.. Small is exempt from qualifying for the championship as a three-time past champion.
Nadler Golf carts will be the title sponsor of the championship. Rounds 1 & 2 start at 7:30 AM on Monday and Tuesday with a field of 136 players, then after 36 holes, the cut will be made and the remaining players will tee off on Wednesday starting at 7:30.
Small was not sure if he would play the new Medinah Course No.1 before the championship, but promised to be ready.
For more information on the full field of 136 players, please visit IPGA.com. There is directions to Medinah and information for spectators, admission is free.