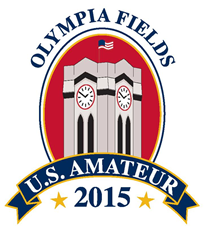 The Walker Cup September 12-13 at Royal Lytham and St. Anne's in England, Team USA is set and ready, are you. Follow the action of the Walker Cup and all the fall USGA Championships at USGA.org. Congratulations to Bryson DeChambeau the winner of the 2015 U.S. Amateur at Olympia Fields, and finalist Derek Bard.                 ______________________________________________________________________
Editors Note: During the recent U.S. Amateur at Olympia Fields, USGA President Tom O'Toole spoke with the Chicago's major golf outlets, including Golfers on Golf, The Illinois Golfer, The Daily Herald, Chicagoland Golf, and the Chicago District Golf Magazine.
O'Toole is in his second year of a 2-year maximum term as USGA President, his term will end in 2016 at the annual USGA meetings when the new president is then elected.
O'Toole has been with the USGA for 27 years, and is a partner in a St. Louis Missouri, based law firm. Formerly, O'Toole served as USGA Secretary in 2010, then as Vice-President from 2011-2013. The Chicago based media outlets that met with O'Toole, thank him for taking time to speak with the media during a busy week at Olympia Fields. O'Toole took all questions that were asked, and did not decline any of topics or issues that were raised.
Among the topics and questions that were asked include the following.
The week at Olympia Fields, and how the club had done as a U.S. Amateur host. The U.S. Open, and the recent 2022-2023-2024 site announcements, the lack of U.S. Opens in the Midwest, the fact that no USGA Championships area scheduled in the years ahead for the Chicago area, for the first time in several decades.
O'Toole was asked about the new TV broadcast deal with Fox Sports, the newly announced U.S Sr. Women's Open that begins in 2018, the USGA and how it monitors the equipment golfers use to play the game, and the addition of the new Jack Nicklaus Wing to the Golf House Museum on the USGA Campus in Far Hills New Jersey.
Click here to hear the interview with USGA President Tom O'Toole from the Olympia Fields Country Club at the U.S. Amateur.
Hear more of this Interview this coming Sunday on Golfers on Golf Radio, teeing off at 9 AM on WSBC AM 1240 and WCFJ AM 1470 Chicago.