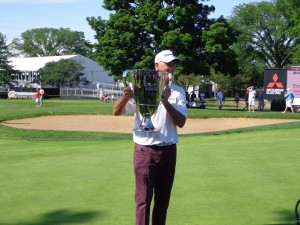 Open Play at Oak Meadows comes to an end on July 6th, renovation work on the 8th with architect Greg Martin on the 8th of July. For a final round or two at Oak Meadows, see DuPageGolf.com. The Encompass Championship returns for a third season at the North Shore Country Club in Glenview the week of July 7-12, with defending champion Tom Lehman in the field. Encompasschampionship.com for tickets or more information. The Mt. Prospect Golf Club will reopen on August 1st, stay clicked in for details on opening day.                                                                                                                        _____________________________________________________________________
The Golfers on Golf Radio Show hits the first tee at 9 AM this morning, on WSBC AM 1240 and WCFJ AM 1470 in Chicago.
We hope you will join Chicago's favorite Foursome in it's 20th Season, making it Chicago's Longest Running Radio Golf Show.
We hope you can join us live, but if you are on the course, the range or getting lesson we understand. So you will get a Mulligan and you catch the show right here on this website later on Sunday by clicking our past shows section. Today's guests include. Michael Hesterberg the designer of Adidas Taylor-Made Golf Shoes, including the new Adi-Boost line.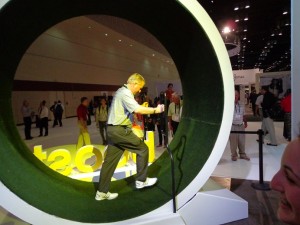 The new Adidas Adi-Boost Golf Shoe at the PGA Show, Rory Spears testing the feel and traction of the new Adi-Boost show at the 2015 PGA Show in Orlando.
After we wrap up the 2015 U.S. Open, we look ahead at who is now on the clock. That would be the Oakmont Country Club in Oakmont Pennslyvania, just northeast of downtown Pittsburgh.
Jordan Spieth will be the defending champion, but no our guest today, but we will hear from him stay tuned on that front. Charlie Howe the 2016 Championship Director will join us in the first half hour of the program.
We will talk fast greens, and church pews with Howe so here is hoping you can join us.
THE HOLE IN ONE CLUB.. CONGRATS TO: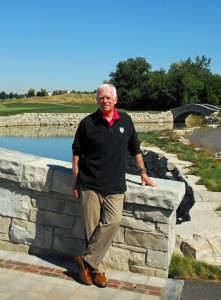 Both in the Hole-in One Club this week are. (L) Architect Greg Martin (seen here at Wilmette Golf Club) made Ace on the 7th Hole at The Old Elm Club in Highland Park, among the witnesses was Gog Radio's Ed Stevenson. (R) Jim McWethy the Owner of the Mistwood Golf Club in Romeoville and MCQ's Golf and Sports Dome in Bolingbrook on the 9th hole at Mistwood.
Honorable Mention : Goes to Mike Munro for an Eagle 2 holed from the fairway on the 11th hole at Erin Hills. Witnesses were, Val Russel Publisher Chicagoland Golf, Rich Tock of Erin Hills, and Rory Spears of Gog Radio.
THE CHICAGOLAND GOLF JULY ISSUE IS OUT at your favorite golf course and or golf retail store. The Cover story talks about the reopening of both the Glen View Park District Golf Club, and Mt. Prospect Park District Golf Club, check it out.
Daily Herald Golf Writer and BIG 3 Partner Len Ziehm is on the road again. Recently Len posted some great travel stories about his recent trips at Lenziehmongolf.com.
The most recent story is about his return visit to Old Kinderhook in Missouri, with a full feature on golf in Branson coming up in just a few days. In addition Ziehm has stories on Erin Hills in Wisconsin, Forest Dunes in Roscommon Michigan, and the building of the new reverseable golf course by Tom Doak. Scheduled for a soft opening in late 2016.
The 2015 U.S. Amateur at Olympia Fields Country Club from August 17-23, is looking for volunteers to help at the championship.
To volunteer please contact 2015usamateur.com or you can call (708)-679-6776. The cost to volunteer is only $75, and gives you 2 logo'd shirts, and a hat. A rain poncho, a grounds badge good for the entire week of the championship, and vouchers for meals.
Come and be a part of the final USGA event in the Chicago until, well ??? That's a god question since another one is not scheduled yet, in any year going forward.
Golfers on Golf Radio our call in number is (773)-792-1240, do join us for a great show this morning.