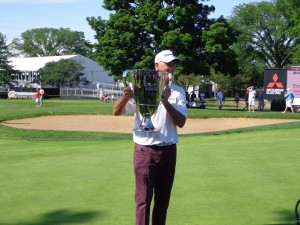 The Encompass Championship returns for another year at the North Shore Country Club in Glenview. Come see the Champions Tour Players the week of July 7-12 with defending champion Tom Lehman in the field. Encompasschampionship.com for tickets and more information. They are cutting greens at the Mt. Prospect Golf Club that is now expected to reopen from a Dave Esler renovation on August 1st. Esler has added some historic and classic golf style features to the course. Stay clicked in here for details on the reopening of the Mt. Prospect Golf Club.                                                                      _____________________________________________________________________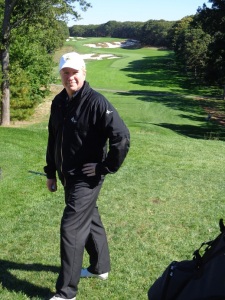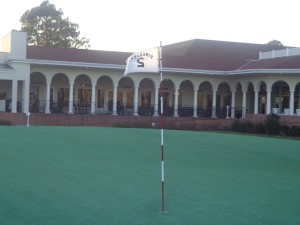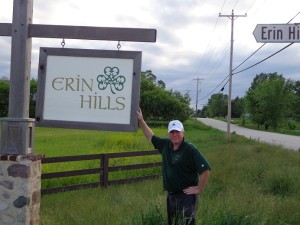 Bethpage Black (L) is part of the New York State Park system on Long Island, Pinehurst #2 (M) is part of the Nine Course Pinehurst Resort in North Carolina, Erin Hills will host the 2017 U.S. Open and is located Northwest of Milwaukee Wisconsin.
EDITORS NOTE: Writer Rory Spears has played 27 courses that have hosted at least one U.S. Open or will. Including 5 of the 6 open to the public U.S. Open venues.
So you want to play where the professionals play, and after watching last weekends U.S. Open you want to play a U.s. Open venue.
Well you can do just that. You actually have six options. In the Northwest at Chambers Bay near Seattle, in Southern California in San Diego at Torrey Pines. In Northern California at Pebble Beach. On Long Island in New York at Bethpage State Park on the Black Course. In the Midwest at Erin Hills just northwest of Milwaukee. At the Pinehurst Resort on Course #2 in North Carolina. All the courses are open right now, well Chambers Bay reopens this weekend for public golf after some clean up from last weekends open. For information on playing Chambers Bay just visit it's website at Chambersbaygolf.com. It's located in University Place a little south of Seattle and Tacoma. Be prepared to walk and take a caddie, some grasses don't like golf carts. (877)-295-4657.
In 2017 after a 14 year absence the U.S. Open finally returns to the Midwest. Erin Hills that hosted the 2011 U.s. Amateur gets it's shot at the big prize. From all reports it should do quite well, as the course has had plenty of years to prepare and seems to have thought of almost everything for a U.S. Open set up.
Long before the U.S. Open comes to Wisconsin, there is plenty of time for you to go stay and play. Yes Erin Hills has both cottages and overnight rooms on the property. Erin Hills like Chambers Bay is a walking only course, and in 2017 the course will not open for the season until after the U.S. Open is played in June. So head up now in 2015 or 2016 to beat the professionals in. If you play the course at full length it's over 8,000 yards. How about an 8 mile walk. To arrange your golf visit Erinhills.com or call (866)-772-4769.
Pinehurst hosted the U.S. Open last year in 2014, in fact Course #2 hosted both U.s. Opens the Men's and the Women's back-to-back which had never been done before.
Right now the U.S. Open crowds might be gone but open championship style golf is still there and waiting for you. The Pinehurst resort, known as the "Home of American Golf" has a Summer Tee Package for $1,137.00. If you stay 2 nights you get a 3rd night free and a 4th round of golf for free. Can't beat that. Kids under can stay in the same room as their parent and eat and sleep for free. Go play the best that famed architect Donald Ross designed, Pinehurst #2. See Pinehurst.com or call (866)-947-8232.
The Bethpage Black Course is one of Five courses at the State Park. The Black Course that has hosted two U.S. Opens and will host a PGA (2020) and a Ryder Cup (2024) is another walking only golf course.
Going through the system to get a tee time isn't always the easiest thing, but the system is better than it once was. The local New Yorker's usually carry their own bag, while the out of town guests and visiting corporate types more often take a caddie ($100-120). The U.S. Open's brought in enough money to revise how the entire state park golf system works and moves forward. The holes are very pretty especially in the fall season, but the walk is not an easy one. About the third hole if you don't have a caddie, you might wish you had taken one, but the middle of the course has some holes that walk a little easier and give you a breather. To make a tee time visit nysparks.com or call (516)-249-5700.
IN CALIFORNIA you have two choices, Northern California and Southern California. Both courses do host PGA Tour events early in the year so February is not a great time to visit.
Pebble Beach Golf Resort will welcome back the U.S. Open in 2019, so still plenty of time to to get there before the pro's come back with the USGA in tow. The green fee is as high as it gets to play an open course, but you can save a few dollars by staying there in the lodge, or Inn at Spanish Bay. For more information Pebblebeach.com or call (877)-670-7144 to make your reservation today.
The Torrey Pines Golf Course is run by the city of San Diego, it has two courses and both are used for the PGA Tour event. The U.S. Open Course was played on the South Course, not the North. Like at Bethpage, architect Rees Jones did the renovation work. For information on playing Torrey Pines, visit Torreypinesgolfcourse.com or you can call (858)-581-7171 to make a tee-time.
For golfers who would like a shot at a PGA Championship Course, the Whistling Straits Golf Course in Kohler/Haven Wisconsin will be open to the public and resort guests of the American Club until about 2 weeks before the championship in August. Online see Destinationkohler.com for details and more.