The Encompass Championship returns the week of July 7 to 12 at the North Shore Country Club, with defending champion Tom Lehman. Encompasschampionship.com for tickets and information. The Glenview Park District Golf Club will reopen in Mid-July, and Mt. Prospect Golf Club is expected to reopen on August 1st. Stay clicked in here for details on opening days.                                                                                                      _____________________________________________________________________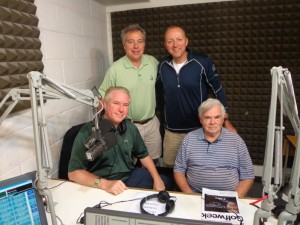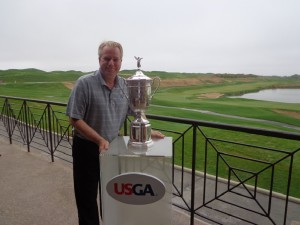 Golfers on Golf Radio returns this morning at 9 AM on WSBC AM 1240 7 WCFJ AM 1470 on your dial. If you miss us live, unlike the guys at the U.S. Open you do get a mulligan if your on the course or the range. Click here on this website into Past Shows and you can listen to the show online. This week is our U.S. Open Show, and we have some great guests from Chamber Bay, or spent some of the week there.
Golfers on Golf Radio is, standing (L-R) Mike Munro & Ed Stevenson, seated (L-R) Rory Spears & Bill Berger.
Our guests today for the annual U.S. Open Show are at 9:10 Jon Jennings live from Shinnecock Hills, Jon spent four days at Chambers Bay this week working with the course maintenance crew. Walking the course and checking out the greens and other things that have been brown this week.
ANN LIGUORI covering the U.S. Open for WFAN radio all sports radio in New York joins us from Chambers Bay in Washington around 9:25.
During the show we will have some sound from the players direct from the U.S. Open audio feed at Chambers Bay.
BIG 3 partner Len Ziehm and the Ziehm Machine have been on the road again. This time Len's travels have taken him up to Northern Michigan. Len checks in from a few resorts. Find out where at Lenziehmongolf.com.
After watching Chambers Bay do you have the desire to challenge your game against a U.S. Open Course. Coming up this week the Gog Blog will look at U.S. Open courses you can play. Stay clicked in.
Have you been thinking how to tee off your 4th of July weekend. Why not head out to Mistwood and play in the 17th annual Stars and Stripes Golf Classic.
The outing is July 3rd and it's a shotgun at 7:30 in the morning. It's a 4-man scramble and you get to play 6 holes from the Red Tee's, 6 holes from the White Tee's and 6 holes from the Blue Tee's. No cheating Uncle Sam is watching.
$125 per player gets you a tee gift, breakfast , 18 holes of golf and a cart. A BBQ lunch after golf, and there are prizes and a skins game to play. Enter now the event is filling fast (815)-254-3333 to reserve your team.
HAPPY FATHERS DAY, Dad's get out and play some golf. RS