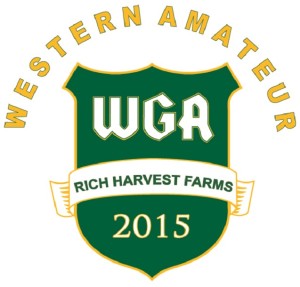 The Western Amateur Championship coming this August at Rich Harvest Farms in Sugar Grove, defending Champion Beau Hossler returns. Encompass Championship returns this July 7-12 at the North Shore Country Club, with defending champion Tom Lehman. Mt.Prospect Golf Club will reopen from renovation around August 1st, stay clicked in here for details on opening day.                                                                         ______________________________________________________________________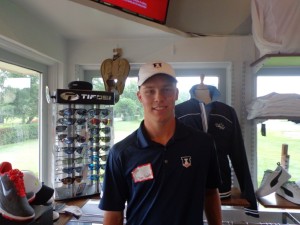 The Gog Blog by Rory Spears, Editor and Director of Content. Follow Rory on Facebook, Linkedin and Twitter @GogBlogGuy. (R) Nick Hardy at the Valley Lo Golf Club pro shop in Glenview.
It just goes to show what kind of person Nick Hardy is, the University of Illinois Sophomore already carries himself at an age bigger than his 19 years. Illini Coach Mike Small sure recruits good kids.
A few weeks back Hardy, after wrapping up school and the NCAA Championships with Illinois down in Florida, went off to qualify for the U.S. Open at Chambers Bay and he made it into the field. A field that wont have many players his age in it.
You would think with a U.S. Open appearance only days away, that would be all that was on Hardy's mind. But just last week he took a break from U.S. Open golf to enjoy a few hours of Illinois Junior Golf. IJGA style. No it wasn't time to buddy up with some money types to finance a trip to the Seattle area for the U.S. Open, it was time to play 9 holes with kids who were about 10 years old and might be in the fifth grade.
Why, well for Hardy it was about giving back to a program that helped him be a better golfer, earn a golf scholarship to Illinois, and put him on a path that has led to Chambers Bay and this weeks open. The Illinois Junior Golf Association is where his roots are at, and Hardy hasn't forgotten that. The event played on the Par 3, Valley Lo course in Glenview is like the courses Hardy grew up on. Hardy admits he loves the little par 3 courses around the area and he has played several of them. Hardy says those course are fun and good for the short game.
If the college golf world didn't know Hardy a year ago, they do now. His first year was pretty successful at Illinois, and Coach Small gave him the anchor role in the match play quarter finals and the semi finals at the national championships. In the quarter finals with the season on the line against UCLA, Hardy rallied to win on the last hole and move Illinois into the next round.
Click here to hear an interview with Nick Hardy about his day at IJGA Golf, golfing at Illinois and his thoughts about heading off to his first U.S. Open.
Hardy arrived on Sunday at Chambers Bay to begin U.S. Open preparations. He had a scheduled practice round with Zach Johnson on Sunday, and Illinois teammate Brian Campbell on Monday. Hardy will plain the Western Amateur at Rich Harvest Farms in August, last year he finished in the final four at Beverly Country Club.