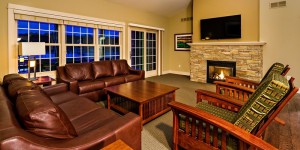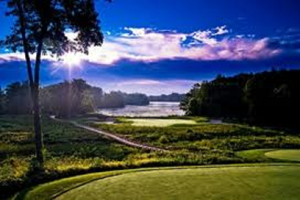 The Island Hills Golf Club in Centreville Michigan, Chicago's Southwest Michigan Golf Destination. Only two hours from the downtown loop. Just NE of South Bend. Stay and play on this Ray Hearn designed championship golf course with some great closing holes. The new golf villa's are are among the best in the Midwest, weekends almost sold out. Book your stay and play now !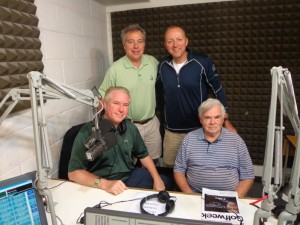 Golfers on Golf Radio takes it to the golf course today, Arlington Lakes is the first road trip of the 2015 golf season. Come by, we are live from 9-10 AM on WSBC AM 1240 and WCFJ AM 1470. Arlington Lakes is open just one more week before it closes for renovation. Architect Mike Benkusky who will oversee the project joins us live along with other guests. Golfers on Golf Radio celebrating it's 20th season is (Standing Mike Munro and Ed Stevenson, seated L-R Rory Spears and Bill Berger).
NCAA MEN'S GOLF CHAMPIONSHIP is halfway complete and Illinois that led after day 1, has fallen back into second place by shots behind USC. Stroke play wraps up on Monday, then the match play starts for the top eight teams advancing from the stroke play. The championship is being played at the Concession Golf Club, Sarasota Florida.
THE SCHAUMBURG GOLF CLUB is offering fairways, food and fun in new programs. The club is now offering Family nights and 9 & Dine. Every Sunday from 5-6 PM families can enjoy a 9-hole walking round for $10 per-person. A golf professional will be the ambassador that welcomes you to the golf course, monitors pace of play, and provides instructional tips. Forward tees will be out on the fairway so the golf course is enjoyed by players of all skill levels.
"The family golf nights will give parents the opportunity to play golf with their children," said Jonathon Parsons, general manager of golf operations."
After golf enjoy special pricing on food and drinks, the chicken dinner at $9 a person or the burger dinner at $7 a person, dinners include one soft drink. Present golf receipt to get the discount, which is good only on day of play. Family groups are limited to four players and must have one player under 18 years old.
Upcoming formats include Alternate Shot on June 5th, and Best Ball on June 26th. Contact the club at (847)-885-9000 to register.
The 8th Annual Links Technology Outing that benefits the Schaumburg Park Foundation, will be played on August 12th with check-in starting at 9:30 Am with food and beverages offered at almost every hole. Call (847)-985-2115 or go online to schaumburgparkfoundation.org.
FOREST DUNES Golf Club in Roscommon Michigan is now open for the golf season. The Tom Weiskopf design rates among the best in the country, the Tom Doak new design is still under construction.
This year Forest Dunes will unveil it's new villas, while the Lake AuSable lodge is open. The club has multiple stay and plays packages. Forest Dunes is set in 1,300 acres of property in the Huron National Forest. For more information visit Forestdunesgolf.com they can be found on Twitter @forestdunesgolf.
CHARITY GOLF OUTING.. the Inaugural Bartend Chicago Invitational will be played on Saturday June 27th at Jackson Park Golf Course, the outing raises money for the Franciscan Outreach. For more information contact Kristina Wert at (773)-270-4875, or email Kristina@venyoeullc.com.
ARCHITECT CHRIS WILCZYNSKI will oversee a new tree management program for the famed Michigan Course Warwick Hills Golf & Country Club. The club was the home of the PGA Tour's Buick Open from 1958-69 and again from 1978-2009. The program will correct turf issues on over-shaded greens and improve course play ability. The plan will reopen fairway corridors that have become clogged with extensive tree growth.
Wilcynski will work arborist/agronomist Julie Stachecki. Both are Michigan State alums. The course has over 1,600 trees and some 400 will be removed or pruned back. More information visit cwgolfarch.com.
THE BOOK CORNER..Greg Barton has authored, Golf is no Ordinary Game, no printed version yet but try Kindle and visit lga-architects.com for more information. Rob Fisher has published The Wichita Kid-Caddies-Story about a 12 year old kid who moves from Kansas to Cleveland Ohio and learns to caddie. See Amazon.com or Barnes and Noble.
KEMPERSPORTS MANAGEMENT based in Northbrook, has signed agreements to manage several new clubs. The Ridgeclub in Cape Cod Mass., the Fountains Country Club in Lake Worth FL., Bay Point Golf Club in Panama City FL.,and the Mount Vintage Plantation in North Augusta, SC.
THE EXGA Executive Women's Golf Association one of the largest women's amateur golf associations in the country, has announced that 17 more courses have joined their network of clubs in 2015. Among the Illinois courses are Prairie Landing Golf Club in West Chicago, and Arrowhead Golf Club in Wheaton. For more information ewga.com. or visit their Facebook and Twitter pages.
The Cog Hill 4-hour challenge, 7 Am shotgun, how many holes can you play in four hours, just $30. Dates include June 1 Courses 1 & 3, June 3rd on Course No.2, Friday June 19th, Course No.1 and Thursday August 13th Course No.2.
Donuts & Doubles open to golfers 50 and Up. 7 Am shotgun, dates include June 5th Course No.1, June 24th Course No.3, July 20th Course No.3, Wednesday August 12th Course No.1, Wednesday September 9th on Course No.2, Only $30 visit Coghillgolf.com/tournaments for details or call (866)-264-4455 x318.
CLEVELAND GOLF has announced the new TFI Smart Square Putter, it's the most advanced putter the company has ever created. The putter is a tour inspired milled, copper-infused face cap over a copolymer insert for the ultimate in feel and in consistency. MAP $199.99 see Clevelandgolf.com for more information.
It's the LPGA's turn to invade New Jersey with the ShopRite LPGA Classic this weekend. The Stockton Seaview Hotel and it's Bay Course is the home of the championship.
The tournament features 19 of the world's top 20 ranked players in the Rolex standings.
The Atlantic City area is well known for having top public access golf course, including the Atlantic City Country Club that has just undergone a renovation on the golf course and to the clubhouse. Visit PlayACGolf.com for more information.
THE UNIVERSITY OF MICHIGAN has hired the Bloomfield Michigan based Resort and Golf Marketing to help promote the Universities Radrick Farms Golf Course marking it's 50th anniversary in 2015. Architect Mike DeVries has created a master plan for the renovation of the UM course, the work is ongoing.
NEED A FATHERS DAY GIFT, it's coming on June 21st. New Balance now offers a variety of cleated and non-cleated golf shoes. The range of shoes runs from $89.95 up to $134.95. Models include Men's NBG2003 Cleated Outsole, and Men's NBG574B Non-Cleated Outsole.
                                                                 The Mt. Prospect Golf Club will reopen from renovation on or about August 1st, stay clicked in here for details on the grand opening date. The Encompass Championship from July 10-12th will be held at North Shore Country Club in Glenview. The tournament is looking for volunteers see Encompasschampionship.com.
Golfers on Golf Radio this morning live from 9-10 AM at Arlington Lakes GC on Wilke Road in Arlington Heights.