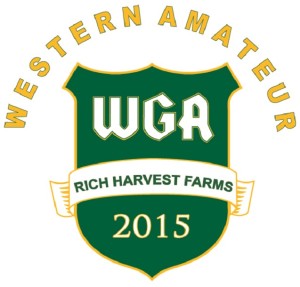 ARE YOU READY ? The progression is coming to Rich Harvest Farms, three tournaments in just 13 months. It starts next month with the Palmer Cup from June 12-14, USA vs Europe as the top college amateurs play a Ryder Cup Style event, walk the fairways with the players, parking and admission are free. This August the Western Amateur one of the top amateur events in the world, then in July of 2016, the LPGA International Crown team event, can the USA win at home at Rich Harvest Farms. Owner Jerry Rich has opened the front door this wonderful facility so you can see the top players in the world, why don't you join him.  Go visit Palmercup.org or Richharvestfarms.com for more information.
The first Illinois PGA Senior Major is in the books, and Doug Bauman the head golf professional at Biltmore Country Club is the 2015 Senior Match Play Champion.
Bauman defeated Jim Sobb the director of golf at the Ivanhoe Club by a score of 1 UP in the championship match.
The two golfers fought hard to the final hole before Bauman came out on top.
The match play was back this year being contested at the Shore Acres Golf Club in North Chicago. The classic Seth Raynor designed golf course is a favorite among the local professionals and the golf course raters from several publications. Last year the championship was moved to the Merit Club in Libertyville, when Shore Acres was still recovering from issues to a few of it's greens because of the harsh winter conditions.
Billy Rosina and Mike Harrigan both with outstanding comeptitive records in the championship, were eliminated in the semi-finals.
To start the week, 47 local senior professionals tee'd it up in the competition.
For more information in Illinois PGA Championships or IPGA Senior Championships please visit IPGA.com.
You can also a find a full recap of the brackets on the IPGA website for this championship.