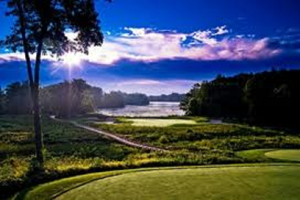 Island Hills Golf Club of Centreville Michigan, only two hours from the loop and just northeast of South Bend, Island Hills is Chicago' Southwest Michigan Golf Destination. Come check out the new and popular villas, most weekends are sold out for the summer. Visit Islandhillsgolf.com for the stay and play packages or call (269)-467-7261. The Medinah Patriot Day is tomorrow, visit Illinoispatriot.com for details on the outing , lunch, dinner and to donate or take place in the auctions.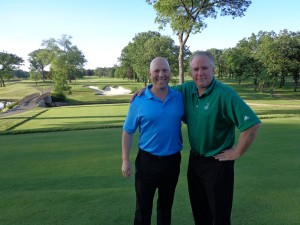 The Gog Blog by Rory Spears (R) with Mark Slaby (L) Director of Illinois Patriot Day tomorrow at Medinah Country Club. The IPEF helping Illinois veterans. Follow Rory on Facebook, Linkedin & Twitter @GogBlogGuy.
Happy Memorial Day golfers and weather permitting a great day to play golf, then to be followed by 19th hole activities.
Tomorrow is a great day to appreciate our veterans, who have served recently and over the years. One of Chicago's top chairity golf outings will tee off tomorrow at Medinah Country Club, on the historic Tom Bendelow designed Course No.2. The course will get a historic restoration starting this fall under the watchful eye of Medinah's Director of Grounds Curtis Tyrell, with architect Rees Jones acting as a consultant. There is still time to be part of Illinois Patriot Day tomorrow, in person or with a donation. Visit the website today and place that call, your support of our veterans from right here in Illinois is needed, Thank You.
Colin Montgomerie has done it again, he has won his second straight Sr. PGA Championship this time on the Pete Dye Course at the French Lick Resort.
Montgomerie had to fight his way through the early front runners, and then fight off the late chargers, but neither group was able to pry the trophy away from Monty, whose goal was to return back to Harbor Shores still in possession of the Alfred Bourne Trophy. A tip of the cap or golf visor to 4th place finisher Brian Henninger who has come back from blowing out his elbow in the Sr. PGA at Harbor Shores last year. He had some 8 months off from golf before making a return this year. Henninger had to survive upon his return a pro-am round with me in Mississippi earlier this year. I look forward to seeing him at North Shore in the Encompass Championship come July.
I'm really looking forward to our first live remote for Golfers on Golf Radio this coming Sunday at Arlington Lakes Golf Club.
We will take a look at the upcoming renovation the will be headed up by architect Mike Benkusky, Arlington Lakes will close on Sunday June 7th for the summer so the work can begin.
The Park District is hoping to reopen the golf course in June of 2016, the Arlington Amateur will be held on the final weekend the course will be open June 6-7.
Oak Meadows had some preliminary work done in advance of it's project starting on July 7th. Com Ed had do some removal of power lines that would be in the way during construction, so they had to be taken out.
THE PGA TOUR was at Colonial Country Club in Texas, Chris Kirk did win and won the red jacket. But the signs showed by Steve Stricker continue to be positive, a final round of 3 under par left him at 5 under par for the championship. Stricker continues to come back from off season surgery and make progress as some of his favorite tournaments start to get closer on the schedule. Like the John Deere Classic and the PGA Championship at Whistling Straits in Wisconsin.
THIS WEEK the long awaited for NCAA National Championship and No.1 (in some polls) Illinois head into action gunning for the national championship, with a team that might be the best team top to bottom that Coach Mike Small has ever had at this time of year. Action begins this week at the Concession Golf Club in Sarasota Florida, Go Illini.
The weather might not be very dry this week, but golf season has arrived and the temps are headed north. GO PLAY. RS.