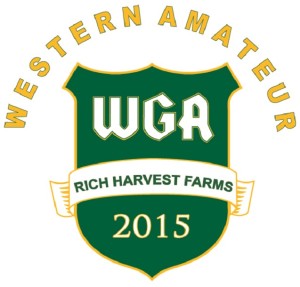 The Progression begins on June 12th at Rich Harvest Farms, come see the Palmer Cup this amateur championship between Team USA and Team Europe. Walk the fairways with the players, no ropes, no charge for admission, free parking. Jerry Rich has opened the doors of Rich Harvest Farms and is ready for top level golf, are you. June 12-13-14 the Palmer Cup named for Arnold Palmer.
The Gog News Blog is full of great golf news this month. Then on Sunday don't forget Golfers on Golf Radio at 9 AM on WSBC AM 1240 & WCFJ AM 1470.
This Sundays guests include BIG 3 Partner Len Ziehm reporting live from the Sr.PGA Championship at the French Lick Resort in Southern Indiana, on the Pete Dye Course.
The Encompass Championship will be held one month later this summer, and tournament week is July 7 through 12 at the North Shore Country Club. The tournament is looking for volunteers. Tom Lehman is the defending champion.
The Western Amateur Championship that will be played in August 3-8 at Rich Harvest Farms in Sugar Grove is also looking for volunteers. Visit Wgaesf.com or visit Richharvestfarms.com. University of Texas golfer Beau Hossler is the defending champion.
NOTHWESTERN GOLFER Dylan Wu was sitting in class when he received a text message from Coach David Inglis, that Wu was now in the NCAA regional at the Yale Golf Course. There was an opening when a golfer from St. John's withdrew to play in a U.S. Open qualifier. Wu was the first alternate. Wu then went on to shoot a 3-under par three day total of of 207, and miss going to nationals by just 1 shot.
Northbrook based P&W Golf Supply-Wittek has hired Kiko Stefanov as their new General Manager, Stefanov joins PW-Wittek after coming over from CDW. For more information see wittekgolf.com.
The 2015 CDGA Mid-Amateur Championship was able to launch it's new format, but the tournament was won by someone not so new to the field.
Two-time Illinois State Mid-Amateur Champion John Ehrgott defeated Michael Natale 5 & 4 to win the championship.
Ehrgott made 5 birdies and only 1 bogey in the match that lasted just 14 holes. Ehrgott played good all week, including during the stroke play where he was the medalist. Chris Schultz and Mike Henry were eliminated in the semi-finals.
Cabot Links has opened for the 2015 golf season, are you ready for some great golf in Canada.
The newly designed Cabot Cliffs Course by Ben Crenshaw and Bill Coore, will open this July. Stay clicked in for an opening date.
Early reports say that the course is outstanding and that golfers will enjoy the golf and views.Visit the website for more details. Mike Keiser has created another great golf destination.
CANTIGNY GOLF in Wheaton has announced that Pat Hickey is now a PGA teaching professional, Hickey has completed the PGA Teaching Program. He will now conduct private and group lessons. Hickey joined Cantigny as a club fitting specialist in 2010. For more information visit Cantignygolf.com.
DAVID LEADBETTER has a new book out, and it's called, "The A Swing", it's the teaching pro's first book in over Ten years. Leadbetter admits the book might be a bit controversial, but says golf instruction needs to be shaken up. Cost of the book now on sale is $27.99 via St. Martins Press.
GOLF CHARITY OUTING coming up Friday May 29th at Cog Hill, for the Joliet ASSAC Charitable Foundation, it's the 3rd Annual DSTee Time golf Tournament. Donation to help raise money for college scholarships is $150. If you would like to play visit tournevents.com/JASSACDSTEETIME to sign up.
Erin Hills home of the 2017 U.S. Open is open for the season, and they are currently offering stay and play packages.
Right now you can play one day at the full rate, spend the night and play a second round for only $145 dollars. This package runs through July 19th, and will run again in October from the 16th through the closing date on the 25th.
Erin Hills is also offering special holiday packages for Memorial Day Weekend, Fourth of July Weekend, and Labor Day weekend. Visit Erinhills.com for details or call (866)-772-4769.
Ryan Ogle has been named championship director for the 2016 Sr. PGA Championship that will return to Harbor Shores in Benton Harbor Michigan.
The championship will be played on memorial Day weekend in 2016 from May 26-29. Ogle from Oklahoma City, Oklahoma has work in a variety of positions at the 2012 Ryder Cup, and the 2014 and 2015 Sr. PGA Championships.
"I am thrilled and honored to be leading our day-to-day efforts with the Senior PGA Championship presented by Kitchen-Aid at Harbor Shores," said Ogle a graduate of Oklahoma State University. " I look forward to helping showcase this world class competition in a world-class community. Colin Montgomerie won the 2014 Sr. PGA Championship at Harbor Shores. The golf course is open for public play and was designed by Jack Nicklaus.
SPEAKING OF THE GOLDEN BEAR, Jack Nicklaus is out with his new line of ice cream just in time for the summer months. It's available at Winn-Dixie, Bi-Lo and Kroger stores, it comes in seven flavors including Triple Chocolate and Strawberry Lemonade.
"It's no secret I love ice cream," said Nicklaus. "I had a lot of fun in the research and development of these products."
For more information see Nicklaus.com or visit TheSchwanFoodCompany.com
Sentry World in Sevens Point Wisconsin has reopened on a full scale after a full renovation by Robert Trent Jones Jr. and Jay Bilasi.
It has already received top rankings from multiple national golf publications. Sentry World has also announced that it's online store has opened.
Long time Sentry World head professional Brian Dumler has accepted a new position at Sentry World as the head of golf instruction and will become the teaching professional. Visit Sentryworld.com for more details.
DEMO DAY this Wednesday at Foxford Hills Golf Club in Cary,with Titleist from 3-7 PM. Please call the pro shop for an appointment. Cobra-Puma will be at the course on June 7th from 9-1:30 PM. The pro shop can be reached at (847)-639-0400.
The list of Golf Digest's Top 100 Public Golf Courses are out, and Cog Hill Course #4 Dubsdread has moved up 11 spots to No.53 on the list.
"Moving up 11 spots on this list is quite an achievement," said Frank Jemsek, CEO and owner of Cog Hill Golf & Country Club. "Our renovation seven years ago has made Dubsdread more relevant to today's golfer in regards to distance off the tee and club selection into the green. Our customers really like the changes, they find them challenging but fair." Providing the best public golf in Chicago has been and will be our top priority and we appreciate Golf Digest recognizing Cog Hill on the national level. Dubsdread is No.11 on the Best in State list by Golf Digest, and the only public course in the top 15.
THE BUFFALO GROVE golf courses will be outsourcing it's maintenance operations and it's a move expected to save the village over a million dollars in the next five years. The company being brought in is the Reliable Property Services Company of St. Paul Minnesota. There is a 3 year deal in place with options for two more years. Services will be used at both the original Buffalo Grove Golf Course and the Arboretum course as well.
Rickie Fowler the winner at the Player Championship has signed a new long term extension with Cobra-Puma Golf.
Fowler coming off of his best season on the PGA Tour in 2014, that included top 5 finishes in all four of the major championships, has capped it off with a win at TPC Sawgrass earlier this month.
"Rickie defines the new generation of golf-his approach to the game, on and off the golf course, is in line with the values of Cobra Puma Golf," said Bob Philion, president and CEO of Cobra Puma Golf.
"I am extremely proud to be part of an innovative, exciting and creative company," said Fowler. "Cobra Puma Golf and I have shared incredible success over the last five years and I'm looking forward to the next chapter." Fowler play Fly-Z woods and AMP Cell Irons.
Wanna Golf Away, it's not too late to head over to island hills Golf Club in Centreville Michigan, Chicago's Southwest Michigan Golf Destination.
This Ray Hearn 18 hole Championship golf design has some of the best closing holes you will on a public golf course.
Why not relax in the Island Hills Villa's with views of the course and the lake. Check out Island Hills Stay and Play packages at Islandhillsgolf.com or call (269)-467-7261.
It's getting closer, opening day at the Mt. Prospect Golf Club in Mt. Prospect. This Dave Esler renovation will give the public golfer a feel for some of great designs done by historic famed architects like Seth Raynor and Charles B. Macdonald.
Opening day is expected to be on August 1st, maybe sooner if the weather helps grow in the grass a little faster. See Mppd.org for more details.
The Gog Blog is back all weekend. Stay Clicked in. RS