The Buffalo Grove Golf and Sports Facility is open today for you to work on your golf game, rates start at just $11 for 30 minutes. Hit some balls before hitting the Chicago Golf Show this afternoon, or on the way home from the show. The dome is located on Old Mchenry Road, call (847)-459-2321 for more information or visit bgparks.org.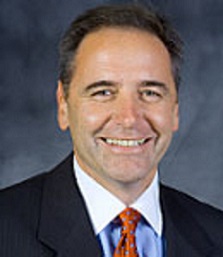 Michael Miller Executive Director IPGA             Jim Opp IPGA President
(ROSEMONT, IL.)
The announcement will be made this morning at the media luncheon at Gibson's Steak House in Rosemont, across the street from the Donald Stephens Convention Center home of the 32nd Chicago Golf Show. Multiple sources have confirmed the details with Golfers on Golf.
The Illinois PGA in conjunction with the Northbrook based Kempersports Management will announce that this years Illinois Open, will be held at the Royal Melbourne Country Club in Long Grove, along with the Hawthorn Woods Country Club in Hawthorn Woods. Both clubs are located just a few miles apart in Lake County, and both are managed by KSM.
This year the normal 156 player field will be expanded to over 250 players, thus the need for two courses. Full details on qualifying will soon be posted on IPGA.com.
The announcement will be made by Michael Miller Executive Director IPGA, and current IPGA President Jim Opp from the Bonnie-Dundee golf club.
Dates for the championship are July 20-22. More details on the 2015 Illinois Open will be posted here, as they unfold. Stay Clicked in.
       Links & Tee's Golf Dome on Lake Avenue in Addison, play the outdoor course open in summer. Call (630)-233-7275 Ext.4 or visit Addisonparks.org. Links & Tee's a full year round golf facility.