The Buffalo Grove Golf & Sports Dome, open tonight and all weekend long so you can improve your golf game. Rates start all weekend at just $12 for 30 minutes. Get a lesson, work on the driver or the short game. Located on Old McHenry Road in Buffalo Grove, call (847)-459-2321 or visit Bgparks.org.
The story in the Philadelphia news outlets is that the BMW Championship is coming to town. In 2018 that would be. Aronimink will be the host course.
Before 2018 as one story says, the BMW Championship will be held back home again in Indiana. That would be in 2016.
The Good news is that after a year away in Denver, the BMW Championship is back in town at Conway Farms in Lake Forest.
2017 seems to be up in the air, even though the championship is likely to return to Conway Farms again. Golf fans in Chicago can only hope. While the Western Golf Association (WGA) has been quiet about the future sites, it's believed that the reports are correct.
In 2012 the BMW drove into Indiana and had a great year at the Pete Dye designed Crooked Stick Golf Club, crowds were big and the hottest golfer in the world and current World No.1 Rory McIlroy won. It doesn't get much better than that. It meant a pile of dollars, for the scholars.
With the Ryder Cup headed into Chicago only a couple of weeks later, it made sense for the WGA and BMW to visit Indianapolis. The return there in 2016 isn't a bad idea, and the last word was that the membership at "The Stick" just had to vote on it. It was also expected that the vote would pass easily. Indy is not a bad drive from Chicago either in a BMW or in any vehicle to watch the top 70 golfers on tour. Chicago to St. Louis is not a bad drive in a BMW either, when the championship went to Bellerive in 2008. With Cog 4 under renovation, that drive made a lot of sense as well.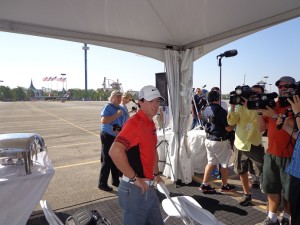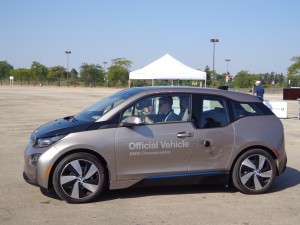 Rory McIlroy stopped off at Great America to test the new BMW I3, but lost a race to fellow tour pro, Gary Woodland.
2016 should be a fun return to Crooked Stick which is a great golf course. 2018 at Aronimink that has hosted a couple of PGA Tour events in recent years, would be a great place to play. The club is one of the great Donald Ross courses you will play anywhere. But as one local scribe told me, Philadelphia is pretty far east to host an event like the Western Open.
Ah yes, the Western Open. We miss you, in spite of the fact that BMW has been a pretty good sponsor and donor to the WGA. Perhaps someday at some level, there can again be a tournament called the Western Open.
In the mean time you can't help but wonder why the PGA Tour, moves around the BMW Championship but hasn't been moving around all of the Fed Ex Cup playoff events.
Credit the WGA for moving around to where they can make as much money as possible for the scholars, after all college tuition is pretty steep these days. For you parents out there, trying to put one or two kids through college. Imagine getting the bill for about 800+ kids like the WGA does every year.
The Barclay's moves around the New York City area, but Boston stays put, so does Atlanta. If the PGA Tour really wants to have it's product in more cities that don't have a regular tour stop, it would be nice if they would move around some other events besides Chicago's PGA Tour stop. If the BMW has to keep driving around, it would still be nice to see it drive around Chicago a little more often. Can we get two out of three, how about three out of four.
Come to the BMW Championship at Conway Farms this September, and show the tour that Chicago needs and deserves a regular tour stop. RS