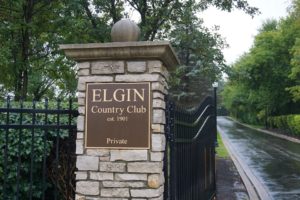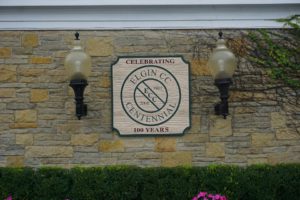 THE ELGIN COUNTRY CLUB founded in 1901-hosts this weeks Illinois PGA Section Stroke and Match Play Championship, play starts Tuesday and runs through Friday.      _____________________________________________________________________
HE'S BACK & GOING FOR THREE IN A ROW.
Skokie Country Club's teaching professional Garrett Chaussard is biding for a three-peat.
One problem that Chaussard could have is that this Stroke/Match Play Championship is on a new venue Elgin Country Club, not Kemper Lakes Golf Club where Chaussard won both of his major match play titles.
The field of over 80 players starts on Tuesday with a new format for the match play championship. A day of stroke play.
The day of stroke play determines the 64 players who advance to the match play, and their seeds heading into round 1 of the matches.
Elgin Country Club is a 119 year old club, and the best way to describe the golf course is that it's hilly. Where Kemper Lakes had plenty of water, Elgin has plenty of hills, that require downhill tee shots, and plenty of uphill approach shots.
The greens will reflect the change in terrain, with putts taking off and rolling in one solid direction. Uphill or downhill and left to right. Throw-out the seeds here, anyone can win and somebody not expected to be one of the favorites, might do just that.
Severe water will be found on the par 3, 16th hole, that looks a little like one of Medinah's Course #3, par 3 holes. The 12th hole has a small pond left of the green that should not come into play all that much.
Click hear to hear Garrett Chaussard speak about both the Illinois Open and defending his title in the IPGA Match Play championship.
Stamina could come into play for players who win a few matches, but have to play most of the 18 holes, or extra holes and might have to go on and play two-matches a day.
Match play begins on Wednesday, with the round of 64 and then 32.
Thursdays matches take the field from 16 to 8 players, and then from 8 players to the remaining four players.
The semi-finals will be Friday morning with the 18 hole championship match on Friday afternoon.
The yardage will play at 6,430 yards, and to a par of 72.
IPGA.com and Golfersongolf.com will both have results from the championship. You will be able to hear from the winner next Saturday on Golfers on Golf Radio Am 820 WCPT.