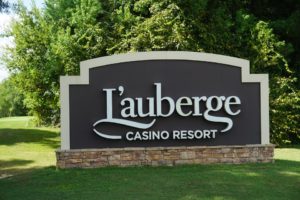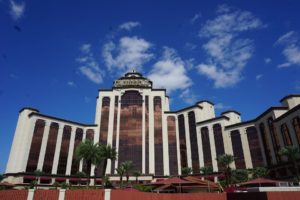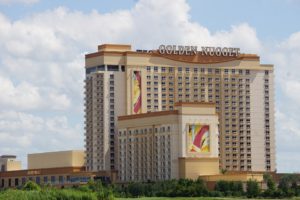 THE L'AUBERGE CASINO RESORT (Upper row), The GOLDEN NUGGET HOTEL AND CASINO-in Lake Charles Louisana. Now in the recovery mode from Hurricane Laura, that damaged much of the community less than 2 weeks ago. Both of the main hotels pictured above suffered damage to their entire facilities. #SaveLakeCharles
"IT IS UNKNOWN WHEN WE CAN REOPEN THE HOTEL & RESORT" Harold Rowland GM, L'Auberge Resort and Casino.
By:Rory Spears
IT WAS almost a year ago I was In Lake Charles Louisiana, enjoying what this community was turning into. It had come a long way in recent years, new homes, new buildings, new hotels with gambling helped lead the rebirth of Lake Charles.
My trip there was related to golf of course, as part of a group of golf media to study the growing golf presence in the community. Writers from around the country were there, in another great what's called a FAM trip, organized by Pam Shaheen of Crossroads Marketing in Atlanta. Even Chicagoland Golf Publisher Val Russell made the trip, so I was not the only Chicago area based media along to take some swings around Lake Charles.
L'Auberge Casino and Resort was our home base for the week. I arrived on Monday afternoon, and departed on Friday afternoon, after full week of enjoyment in Lake Charles, where the golf was good, and the food, beverage, and the people we met were even better.
Lake Charles doesn't have as many courses as say Myrtle Beach, but the ones they have are really fun and playable for all skill levels.
Our hosts for the week were from the Visit Lake Charles Convention Bureau (CVB), the media relations team of Will Precht and Kathryn Duncan. Between the golf, the tours around town and the dinners, a great time was had by all the golf media in attendance.
I had Precht on Golfers on Golf Radio last year to preview Lake Charles, and what I would see when I arrived. Since the radio show ended for 2019 before I got to Lake Charles, the plan was to have a Lake Charles feature back in April when the show returned. Then Covid hit, and GOG Radio was 3 weeks late to the first tee box, and other issues were waiting to be resolved. Like how to get golf up and running in Illinois, with surrounding states being open for play.
So the plan was changed to bring Lake Charles back to the show, to talk some Louisiana golf here in September. When the weather was starting to turn colder up north, and a trip down south would be a great idea.
On my way home from the Illinois PGA Section Championship at Medinah 2 weeks back, I got a call from a friend who said, "weren't you in Lake Charles last year." I said yes, a great community, and I'm having someone from there on our golf show in a couple of weeks. The response was not what I expected.
"Have you seen the Weather Channel," my friend said. No, I replied. My friend said that Lake Charles was right in the path of Hurricane Laura, and her 150 MPH winds. The residents had been ordered to evacuate, but the question was would they have a town to comeback to. That's when the feeling of a full punch in the gut hit's you.
When Laura came, she left a pile of destruction, and Lake Charles will need a major rebuilding project.
The main casino hotels have damage, roofs torn off and windows blown out. Many homes and business' are destroyed. To make matters worse, the average temperature for the last 10 days in Lake Charles has been 103 degrees.
Which isn't too bad if you can go inside and sit in the air-conditioning. Except for the fact all the electric poles are down, and the town is not expected to have power for 4-8 weeks. Residents are coming back to see what's left of their homes, getting more of their belongings and leaving again, to anywhere they can go.
Precht's apartment didn't fair so well, so he's at his brothers in Lafayette about an hour away. Duncan's home did better. Both are commuting to their home town and spending several hours a day, and driving back to where they are staying.
Precht says the good news is that after a week, most of the roads around town are open. Like the Sam's Club store that didn't have much, if any damage at all. So Sam's gas station was open, one of the few open ones in town. But when you need gas, the line is about 100+ cars long at a time.
I was relieved to hear from both Precht and Duncan via Facebook, then Precht was able to call. He will return to Golfers on Golf Radio this Saturday at 10:10 Am, that's the plan as of now, providing the phone service still works on Saturday.
As a media person, it was hard to see the town's TV station main antenna had buckled in half, and crashed the stations roof. The studio's and offices are a mess. Kind of like Precht's and Duncan's offices at the CVB. The tower on the top of atrium blew away, and the water poured into the building, collapsing the ceiling into the CVB offices.
Mayor Nic Hunter admits his community needs " a lot of help" and will for a while. But the news cycle changes every 24-48 hours and Hunter is afraid with the presidental election coming up, and Covid-19 being what it is, Lake Charles will soon be forgotten. Hopefully people wont' forget and will help as they can.
A BIG tip of the cap and golf visor to Bob Parson's at PXG Golf who is donating money and matching donations to Team Rubicon in the name of Lake Charles. The Capital One Center is the big building shown in many of the film clips on TV, that is missing quite a few windows. The towns college of McNeese State saw it's buildings, take it's share of hits. Laura left the football field under a foot of water. The Civic Center and the Lake Charles Airport that I flew into and back home from, have suffered damage.
Precht says if time permits he will look into some of the golf courses I visited, and see how they held up. A new clubhouse was under construction at The National Golf Club of Louisiana when I played there. I hope now only a year later, it won't need to be rebuilt again from ground up.
As we celebrate Labor Day 2020 in America, I know it will take months of labor to rebuild Lake Charles. When the power returns, and clean up is over, I hope you will visit Lake Charles and it's golf courses. Lake Charles will need the tourist business to help get back on it's feet and continue to move forward, as it was before Laura hit.
More on Lake Charles as time moves forward-Will Precht joins Golfers on Golf Radio this Saturday, I hope you can as well.
The WGA's Evans Scholars Invitational on the Korn Ferry Tour tee's off this Thursday, Golfers on Golf will be there to cover. RS