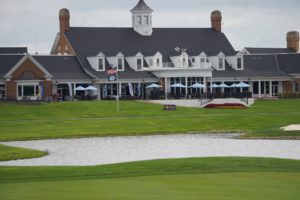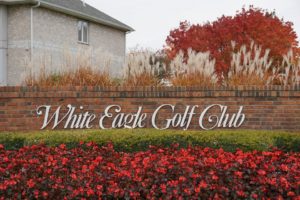 THE WHITE EAGLE GOLF CLUB in Naperville Illinois, home of the 71st Illinois Open.    ______________________________________________________________________
THE GOG BLOG-by RORY SPEARS, reporting from Naperville. Follow Rory on Twitter @GogBlogGuy, or Facebook and LinkedIn.
Bryce Emory just won the biggest tournament of his golf career, the 71st Illinois Open.
Emory a native of nearby Aurora, started the third and final round with a 4 shot lead, before the front nine was over his lead was but one shot and slipping away.
But Emory got back on track with a birdie on the par 4th ninth hole, when his approach shot that for a moment looked like it might fly over the 9th green, hit just in front of the back fringe and spun back to 2 feet left of the cup. One putt later his lead was three, because Tee-k Kelly's birdie putt went up the hill on the 9th green, got to the top of the ridge, stopped for a few seconds, and rolled back down the hill some 35 feet to near where Kelly had putted the ball from.
Click here to hear interviews with 2020 Illinois Open Champion Bryce Emory, and runner-up Jack Korzon.
Emory added two more birdies on the back nine, with no bogeys and with nobody in the field mounting a back nine charge. Emory cruised in with a 4 shot win, the largest in the Illinois Open since last year, when David Cooke defeated Nick Hardy by 4 shots. Emory earned $19,928 for his first place win, coming from the purse of $105,000.
Jack Korzon of Downers Grove made a couple of late birdies to take second place.
Korzon closed with a 3 under par 69, which was the third best round of the day.
Brian Bullington of Frankfort and Jordan Hahn of Spring Grove shared the low rounds of the day, both with 4 under par 68's. They both finished T-9.
Highwood's Patrick Flavin the 2017 Illinois Open Champion, who hovered around the lead for all three days, couldn't not get off to the quick start he was looking for in the final round. Over par for much of his round Flavin had a late birdie, and then an Eagle 3, on the par 5, 17th hole to finish the day at even par, and a T-5 for the championship.
Jordan Less of Elmhurst who won the 2019 Chicago District Golf Association (CDGA) Match Play title, shot a final round of 72 to win the Low-Amateur award.
Less had bounced back from a 1st Round 74, with a 69 in Round 2, in tough windy conditions.
But with warmer temps and less wind in the third round he could not mount the charge he had hoped for. But was happy to finish low-amateur 1 shot ahead of University of Illinois Sr. Giovanni Tadiotto. Tadiotto tied for 9th place with his U of I golf coach Mike Small. Small had multiple late birdie attempts that could have left him as high as third place, if a few putts would have dropped. Small is looking forward to competing in the IPGA Section Championship, a tournament he basically owns having won more than ten times at Medinah Country Club in 3 weeks.
Brandon Holtz the first round leader, fell back to even par for the championship with a final round of 74 (+2). Ethan Brue who started the day tied for second place, was one of the players who got within 1 shot of Emory early on the front nine. But a quadruple bogey 8, on the par 4 7th hole, ended his hopes of winning the title and lead to a final round of 74.
The players were strongly supported by the members of White Eagle who turned out in nice numbers, while practicing social distancing. It's likely the Illinois Open will return to the club within a couple of years.