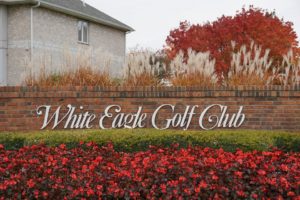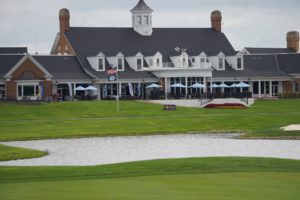 THE WHITE EAGLE GOLF CLUB in Naperville Illinois is home to the 71st Illinois Open. _____________________________________________________________________
TWO DAYS and two course records at the White Eagle Golf Club.
On a windy day in Naperville, Bryce Emory made the turn at 1 under par for the day, and then ended up 5 under par on the back-nine to take control of the Illinois Open heading in the final round on Wednesday.
Emory 29, who grew up in Aurora and playing the Aurora Country Club has reached a point where he is thinking about his career going forward. Playing some mini-tour events his game has evolved to a point, where he thought this might be his last year of Illinois Opens. Then Covid-19 has hit and now he thinking some more about, "what's in store" long term while working at the Black Sheep Club in Sugar Grove. Black Sheep head professional Kevin Healy is Emory's swing coach.
"I have practiced a little bit less this year, and feel a little more fresher which is a good thing, " said Emory. "But once I started playing this summer I was playing pretty good. But I come here and at 29 I feel like one of the old guys in the field."
Three players are tied for 2nd place, all after carding 2-under par rounds of 70 in the second round. Charlie Netzel, Tee-k Kelly, and Ethan Brue all battled the afternoon winds and looked for most of the day they would join Patrick Flavin and first round leader Brandon Holtz in a final round battle for the trophy.
"Today was at least a club more wind and the guests were pretty nasty," said Kelly. " The pins are…set up like a championship. They are tough to get to and tough to putt to and greens have some big slopes on them. If you just park your approach shots in the middle of the green, you will have some crazy lag-putts to deal with."
Then suddenly the news broke that Emory had a run of late birdies, that included an eagle and he had posted a 66.
Holtz has been close to winning an Illinois Open title in the past, this time he wants to finish the job. But with Emory matching Holtz's Round 1 course record, that job just got a lot tougher.
"Today was rough," said Holtz. "Yesterday I had a lot of control of the golf ball, I was able to put it where I wanted. But today that was not the case. I battled it around out there, and feel like I'm still in the mix. The key is playing out of the fairway, because the rough is ankle deep and it's thick. The greens are firm and tough, but tournament greens should be tough. Holtz and wife are enjoying their new 5-month old baby boy, even though it has put a little damper on his playing. But Holtz is taking his son to the range, and cutting down some clubs to junior golf size could be an upcoming project for Holtz.
Holtz set a course record at the White Eagle during Round 1 with a 6 under par 66, however Tuesdays Round 2 saw some pin-placements that left some of the field groaning at Tournament Director Brad Slocum.
With temperatures in the morning in the low 60's, but moving up to the mid-70's by the afternoon, and a wind speed of 15, and gusting into the mid-20's. It was easy to say that White Eagle had scores of the states best players soaring, as those near the clubhouse had to look no further than the flag on the island 18th green, to see it flapping so strong it appeared it might fly right off the flagstick.
2017 Illinois Amateur and Illinois Open Champion Flavin was in the first group out at 7:30, Flavin shot a 1 over par 73. When asked about his over par round, Flavin called it, "a good round of golf." For much of the day it appeared that Flavin would be correct, in saying anything around par would be a good score.
FOUR-TIME Champion University of Illinois Golf Coach Mike Small rebounded with a 1-under par 71, Small sits at +2 and made the cut that fell at +6.
ROUND 2 saw a win for the senior golfer. After Zach Mulhearn beat his dad Danny Mulhearn by 4 shots in Round 1, Danny returned in Round 2 to beat Zach by 4 shots. Both Mulhearn's missed the cut, but family bragging rights are still up for grabs.
16 YEAR OLD William Gneiser the youngest player in the field, rebounded from a 91 in Round 1, and was ten shots better at 81 in Round 2. Gneiser is the grandson of the late Blackhawks star Stan Mikita, who played in multiple Illinois Opens back in the 1970's.
MEDINAH PROFESSIONAL Travis Johns who came in bidding for the career Grand Slam, made the cut on the number at +6. But is 13 shots off the lead, and a run at the slam will have to wait another year.
51 players made the cut, and tee times are expected to start with the early groups off the first tee at 9 Am.