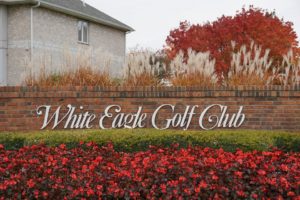 THE WHITE EAGLE GOLF CLUB is host to this years 71st Illinois Open August 3-5.      _____________________________________________________________________
The 71st Illinois Open has a familiar name at the top of the leader board.
Football helmet salesman Brandon Holtz out in the first group of the day with White Eagle Golf Club Director of Golf Curtis Malm, carded a 6 under par 66, and holds a three shot lead.
The 66 is a course record, but some are calling it a new course record, since it's come after architect Todd Quitno's recent renovation. Apparently unwilling to take Tiger Woods name out of the record books, it's now being said that Woods still owns the old course record. Go figure.
"Setting the new course record is pretty sweet," said Holtz. "The course is phenomenal and the greens are great. I had a couple of bad hits off the tee that left me in tough spots, but overall it was a good day."
Holtz says he only plays in three events a year, since he quit playing professionally. So he really gears up for those three. Holtz is no stranger to everyone who plays the Illinois Open.
In 2017 Holtz was second, in 2018 Holtz was second again. In 2019 a great third round at the Glen Club pulled him up into a T-7 finish. This year he seems like a man on  mission to finally get the job done.
Malm had a birds-eye seat to Holtz's round.
"He hit it great, 66 was about as bad as Holtz could have shot," said Malm, who finished with a 1-over par 73. Malm who upgraded his title in the off-season from head professional at White Eagle, to Director of Golf admitted he hasn't been playing competitively this summer.
Malm told Golfers on Golf that the right decision was made in not cancelling this years Illinois Open, even though the second course Stonebridge had to be dropped, and the field was sliced down to it's old size of 156 players.
Brian Bullington and 2017 Illinois Open Champion Patrick Flavin are tied for second place after carding 3-under par 69's.
Flavin was the Best-Man in his brothers wedding on Sunday night, in the suburbs of Columbus Ohio. He stayed more-or-less on his best behavior Sunday night, and set his alarm at 4 Am EST, to get up to drive to White Eagle for his 12:30 tee time. He arrived just less than two hours before teeing off. Flavin did some yoga drills to get ready to play before hitting balls and working on the putting green.
Click here to hear interviews with Curtis Malm and Patrick Flavin
Three players are tied for fourth at 2 under par. Overall 16 players broke par, many of them at just 1 under par. Medinah Country Club professional Travis Johns who is bidding for the career grand slam, after winning the IPGA Section Championship last August at Ruth Lake shot a 75 (+3).
Amateur William Gneiser the youngest player in the field at only 16 years old, and is the grandson of former Blackhawks great the late Stan Mikita, struggled to a 91. Mikita an avid golfer, played in the Illinois Open on multiple occasions in the 1970's.
The cut will come after Round 2 on Tuesday, the low-50 and ties or anyone within 10 shots of the lead, gets to play Round 3 on Wednesday.