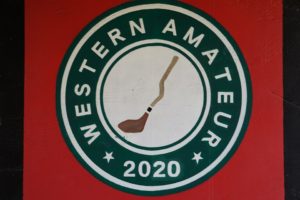 THE 2020 WESTERN AMATEUR IS UNDERWAY and down to 46 players for Rounds 3 & 4 tomorrow at Crooked Stick Golf Club in Carmel Indiana. The title is up for grabs, and defending champion and NHL referee Garrett Rank has missed the cut by 3 shots. PARK RIDGE COUNTRY CLUB is getting ready for the Women's Western Amateur in 2021, architect Greg Martin & team are hard at work getting it ready. More this week.      _____________________________________________________________________
JACK IS BACK. Actually the #GOAT was never gone.
But what the 18-time major champion has done, is created a limited-edition set of irons as a joint-venture with the legendary Japanese Club makers at Miura Golf.
This series of irons are for serious collectors who enjoy beauty and function.
The set is a classic Miura blade, with the Nicklaus preferred specifications. The partnership on the this set of irons mixes 60 years of the Miura's club making perfection, with the Nicklaus thoughts on design created over his 60 years on design thoughts.
These clubs are the first in a decade to "Bear" the Nicklaus name.
Pre-Order is available now, by going to Miuragolf.com/Nicklaus. the first sets will arrive in early 2021.
Nicklaus first went to the Miura factory in 2014, and was only the second person to sit in the famed Miura grinding line first chair, where only Miura-san has ever sat.
"The day Jack visited the factory was the best day of my life," Miura-san said. "My family is honored to produce this set of iron's for golf's greatest champion and see our families crest share a clubhead with his seal of approval."
"I've spent decades designing golf equipment, and I cherish  the painstaking craftsmanship that goes into enhancing the tools of my trade," Nicklaus said. "The Miura family and I share this passion for doing everything the right way and leaving no detail overlooked, and we have worked closely in this collaboration to highlight the superior subtleties of Miura forged steel."
The goal in this partnership was to create the Miura-san club, with a modern day version of the Nicklaus blade. What Nicklaus asked for, was a set of irons created with a standard offset, uniformed through the set. Miura clubs have been built since 1957, they are individually handcrafted and will never be mass-produced. For more see Miuragolf.com/Nicklaus.