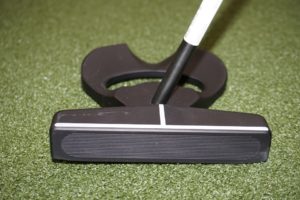 A DIRECTED FORCE 2.1 LAB GOLF PUTTER-THE CALLAWAY MAVERICK DRIVER  _____________________________________________________________________
WITH THE VIRUS making this a weird summer golf season, golfers have taken a different approach to just about everything in their game.
Where they play, how much they play, will they travel more or less to play, or what about improving their equipment.
As for me, I'm taking some time to improve what's in my bag, which will be a future column. I have an order in with Callaway Golf, because after hitting the Maverick Line, those clubs have shown me they are really something special. But what about the putters.
It's easy to say that the big names in golf putters, like Scotty Cameron at Titleist, or Sean Toulon with Callaway and other companies like Taylor Made, Ping or Bettenardi have to be the best. That being said, all of the above make great putters. But if your willing to think outside the box of big name equipment makers, their are a few smaller custom companies who make good putters.
As research continues on putters, the putting stroke, the loft on putters, and whether the weighting on putters should be in the toe or the heel, should the shaft be in the middle of the club face or the heel. Should the putter be a blade, or have some big sized weighting on the back end, the options golfers have today continues to expand.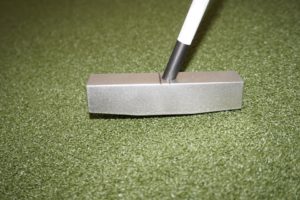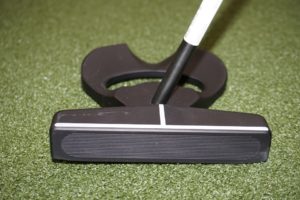 THE LAB GOLF- B.2 (L) or DIRECTED FORCE 2.1 (R), not fancy but they make putts.
Last week I learned about what I'll call a new or newer putter company called LABGolf Putters. Lab is-Lie, Angle, Balance. On the surface they look weird, on the putting surface they make putts. It's as simple as that. It didn't make me long to start rolling in putts with both of these putters on the carpet inside the PGA Tour Store in Vernon Hills. Players on mini-tours are starting to use them, and big name players on the PGA Tour are starting to inquire about them. Stay tuned.
After my first 8 putts with both putters, I started making everything. It was shocking how much my putting improved with no lessons, and in a span of 10 minutes. I'm not used to having a large grip on my putters, but even with a bigger grip the feel was really good. The lighter grip pressure on these putters seems to help you get a feel for how to put a good roll on every putt. If your thinking about a new putter, do check out LabGolf putters before you buy. Labgolf.com. Watch the video by CEO Highland Park Illinois native Sam Hahn.
RENOVATION REVIEW there is one course going into renovation, and one coming out of the renovation phase.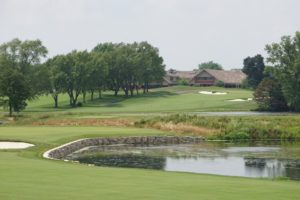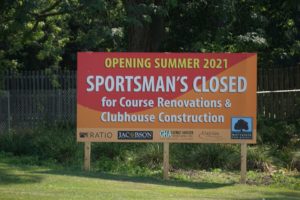 The Schaumburg Golf Clubs Tournament Nine is days away from reopening and putting the final touches on a plan that has been in the works for 5 years. At Sportsman's Golf Course in Northbrook, the work has started. The old clubhouse and cart barn have been torn down, and many of the 27 holes have been dug-up. Architect Rick Jacobson and his team are hard at work in Northbrook.
The Good news at Sportsman's is that with work getting underway early this year, there is hope for some golf there in 2021. In Schaumburg the final pieces of the puzzle are about to be put in place. August 1st is expected to be the opening day and club officials are looking forward to having 27 holes, finally reopened for play.
Architect Todd Quitno and along with the Schaumburg Golf Club renovation team headed up by GM Jon Parsons, have really delivered a facility golfers can enjoy. It will be hard for some golfers to play there and realize that Schaumburg Golf Club is a public golf course.
THE RYDER CUP is finally pushed back to 2021, and that had become one of the worst kept secrets in golf. Now how do you select a team, do the standards change. I agree with Davis Love III, who says lets take the 12 highest players in the point standings and put them on the team. A captains pick only in an emergency. By next September players will have had three years to earn enough points to make the team. Not a bad plan.
WHAT A DAY this past weekend at Blackberry Oaks Golf Club in Bristol/Yorkville. First on the tee, a horse had got loose in the area, and was racing down the fairways looking like it was ready to win the Kentucky Derby. Then the range picker and cart ended up in the drink, the driver was penalized. Later in the day a golf cart ended up in a pond. GM and head golf professional Chad Johansen was left speechless. So you wanted to be a golf professional, hey all in a days work. Video of the horse and pictures of the carts can be found on Johansen's Facebook page.
I FIRST MET Collin Morakawa at the Western Amateur, he is a good kid and really showed what he is made of when he defeated Justin Thomas yesterday in the playoff at Muirfield Village. I hope golf fans get on board and support Collin, he is really worth rooting for.
KUDO's TO NORTHWESTERN UNIVERSITY Alum (Class of 2011) David Lipsky on his Korn Ferry Tour win this past weekend in San Antonio Texas. Lipsky closed out the win with a final round 65, and shot 25 under par for the championship. That's great playing on any course at any tournament.
NICE JOB BY CBS in giving several mentions to the John Deere Classic on Sunday, this past week would have been JDC week. I'm looking forward to being at the 50th PGA Tour event in the Quad Cities, at TPC Deere Run next July.
The Gog Blog returns tomorrow. RS