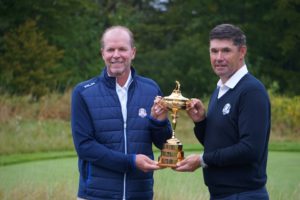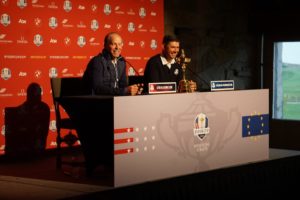 TEAM USA CAPTAIN-STEVE STRICKER (L) and TEAM EUROPE CAPTAIN PADRAIG HARRINGTON hold the Ryder Cup last September at Whistling Straits, and a press conference with the world golf media. Now they both have another year to play captain.  ______________________________________________________________________
WELL NOW IT'S OFFICIAL- what was expected for a long time has now been announced.
This years 2020 Ryder Cup has been delayed into 2021. The dates for the Ryder Cup are now September 21-26 in 2021.
As a result, the 2021 President's Cup scheduled for the Quail Hollow Club in Charlotte North Carolina has been moved back to 2022. With dates moving up into September from the 19th to the 25th.
The PGA of America made the decision with Ryder Cup Europe, after consulting with the Center's of Disease Control the State of Wisconsin and Sheboygan County.
"Unlike other major sporting events that are played in existing stadiums, we had to make a decision now about building facilities to host the 2020 Ryder Cup at Whistling Straits," said PGA of America CEO Seth Waugh. "It became clear that as of today, our medical experts and public authorities in Wisconsin could not give us certainty that conducting an event responsibly with thousands of spectators in September would be possible. Given that uncertainty, we knew rescheduling was the right call. We are grateful to PGA Tour Commissioner Jay Monahan and our partners at the Tour for their flexibility and generosity in the complex task of shifting the global golf calendar."
As a result the Ryder Cups going forward will move back one year. Marco Simone Country Club Italy, in 2023, Bethpage Black New York into 2025, Adare Manor in Ireland in 2027, Hazeltine National Golf Club in 2029, 2031 location is TBA, 2033 The Olympic Club in San Francisco.
"White it is disappointing that the Ryder Cup won't be played this year, the decision to reschedule is the right thing to do under the circumstances," said U.S. Ryder Cup Captain Steve Stricker. "At the end of the day, we want to stage a Ryder Cup that will rival all the other Ryder Cups in my home state of Wisconsin, and now we have the opportunity to showcase the event as it was meant to be seen."
Padraig Harrington, Captain of the European Ryder Cup Team said," Rescheduling the Ryder Cup was never going to be an easy decision given the many factors to take into consideration. But I believe it is the right assessment given the unprecedented circumstances we are facing at this time. September of 2021 seems like a long time away, but it will come around quickly and our players will be ready when it does."
Both sides will revisit their team selection process, tickets purchased for this year, WILL BE automatically valid for 2021. The PGA of America will offer full-refunds for those who can not attend next year. In addition the Junior Ryder Cup schedule for Blue Mound Country Club in Wauwatosa Wisconsin will be pushed back into 2021.