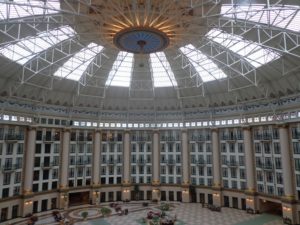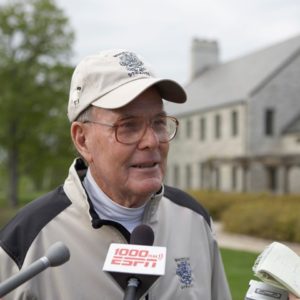 THE WEST BADEN DOME at the French Lick Resort. The resort is almost fully reopened, so plan your visit at FrenchLick.com THE PETE DYE TRAIL is up and now running except for at the Brickyard Crossing course. Details at PeteDyeGolftrail.com.      ______________________________________________________________________
LAST SATURDAY was a blast having Wilson Golf President Tim Clarke join us in studio for Golfers on Golf Radio Am 820 WCPT.
Wilson Golf and it's long history is all about it's roots here in Chicago. So a special thanks to Tim for giving up part of his Saturday to be in house for a live show.
It's always great to hear what's going on in the golf equipment world, and with Wilson, it's happening right here.
Clarke did not rule out another Driver vs Driver type show at some point. But it could take a while with Golf Channel moving up from Florida to the great Northeast. We will see.
IT WAS GREAT on Fathers Day weekend to have live golf even if it wasn't the U.S. Open at Winged Foot. The Harbor Town design at the Sea Pines Resort by Pete Dye with an assist from Jack Nicklaus is a good golf course. Maybe the best maintained course I've ever played. It's always good to play a golf course that's in great shape, and it doesn't look like anyone has played it in two months. Congrats to Webb Simpson on the win, 22 under par is a pretty good score but not unheard of anymore at a tour event. Yes, there are plenty of good holes on that course other than the 18th.
IT WASN'T A GREAT FINISH for Deerfield's very own Vince India, who had a four shot lead after three rounds heading into the Saturday finish at the World Golf Hall of Fame King and Bear golf course. Unfortunately India who was 25 under par after three rounds, ended up with a 4 over par 76 final round and a T-6 finish. India actually tied Northbrook's Nick Hardy who started the final round 9 shots behind India. The good news is that both India and Hardy are playing well coming out of the break.
FOR THE FIRST TIME since the winter road trip, I'm hitting the road for a golf trip. It's time. Jim Cornelison won't be singing like he does at the Indianapolis 500, but I'll be back home again in Indiana and without a stop at the French Lick Resort which is rare. The trip starts today and is only 3 days, but it's time for some Western Amateur preview and a test drive or 18 at the new Indiana University golf course-The Pfau Course. I'll take time to see a few Pete Dye designs along the way.
HERE IS HOPING the weather in Indiana holds up and it's a great week here, our local courses deserve it, and your down to the final few hours to sign up for the Blackberry Amateur at Blackberry Oaks in Bristol. Call the club at (630)-553-7170 and play both days next weekend if your looking for a tournament to play in.
LEN ZIEHM of LenZiehmongolf.com, the Daily Herald and Golfers on Golf Radio contributor has been knocking out columns about his travels through the Carolina's, check out his website for all the details.
The Gog Blog returns all week. RS, Go Play Everybody.