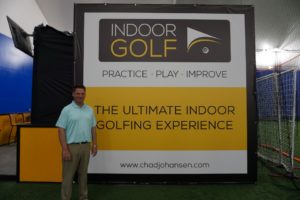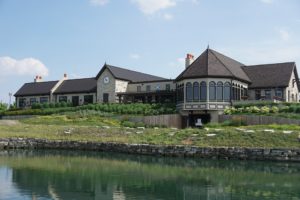 CHAD JOHANSEN and the Four-Step Process is taking shape at the Go For it Sports Dome in Yorkville-4StepProcess.com. MISTWOOD GOLF is back and rolling, with not only the golf course, but the performance center open. Mistwoodgc.com (815)-254-3333 ______________________________________________________________________
THE ROTUNDA Room is now open at the Seven bridges Golf Club in Woodridge, as the club celebrates it's 30th Anniversary in 2020.
The club has recently made several improvements inside the clubhouse, and now offers plenty of options for dinners and events.
For more details and information see SevenBridgesgolfclub.com.
HAPPY FATHERS DAY to all the dads today, hope you enjoy a round out on the golf course of your choice. The Fathers Day Sale continues today at the Eagle Ridge Resort in Galena. Eagleridge.com
2019 Illinois Golf Hall of fame inductee Len Ziehm is back on the road again visiting travel destinations of the Southeast.
The first stop on his current trip was Santee South Carolina. A nice small town that is growing located towards central South Carolina, that has several good golf courses.
For more details and some good golf reading see Lenziehmongolf.com.
Ziehm has a Daily Herald piece on the unfortunate collapse of Deerfield's Vince India, who had a four-shot lead headed into the final round of this weeks Korn-Ferry Tour event. India ended up T-6 along with Nick Hardy from Northbrook, who made up 9 shots on India, in Saturday's final round in Florida, in the World Golf Hall of Fame Village.
Wilson Golf and Cog Hill Golf have teamed up for a demo day this Thursday June 25th. From 12 Pm to 4 Pm on the driving range at Cog Hill in Lemont.
Covid-19 safety measures will be in place to help provide everyone that is attending a safe environment.
For more details visit Coghillgolf.com or contact Cog Hill at (866)-264-4455.
Tim is running out to sign up for next weekends Blackberry Amateur, at Blackberry Oaks in Bristol (near Aurora).
The BB-Am a 36-hole two day event, is sponsored by Wilson Golf and by Michelob Ultra.
The Blackberry Amateur is next weekend June 27th and 28th. So call the pro shop at (630)-553-7170 and get registered now. Don't forget the Blackberry Oak summer 4-man scramble in Sunday July 12th, you can now sign-up for the scramble. Blackberryoaks.com.
CHRIS CHARNAS and  Wilmette Illinois based Links Capital Advisors has been retained to handle the sale of Fire Ridge Golf Club in Grafton Wisconsin, just North of Milwaukee. To explore purchase options contact Chris at (312)-543-7192 and or see Linkscapitaladvisors.com.
WOULD YOU LIKE an upgrade to your yardage books. Well now there is more details than ever in the Golf Logix yardage books-Where Tradition meets Technology. For more information visit Golflogix.com.
The 4th hole at Mistwood Golf Club will be a great place to be, on the 4th, July 4th that is.
The annual multiple format scramble is on again this year at Mistwood.
The Red-White & Blue scramble is one of the most popular events of the year at Mistwood.
So if you would like to put a little pop and bang into your Fourth of July. Call the Mistwood Golf Club today and sign-up at (815)-254-3333.
The Gog Blog will return tomorrow. RS