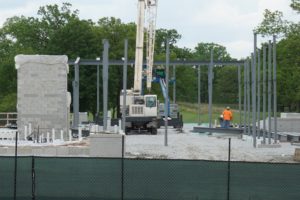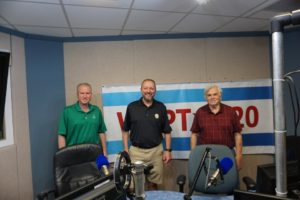 THE STEEL IS COMING OUT OF THE GROUND at the new Preserve at Oak Meadows clubhouse in Addison. Golfers on Golf Radio Am 820 WCPT, your hosts are (L-R) Rory Spears, Ed Stevenson and Bill Berger. This morning's tee time is 10 AM.       _____________________________________________________________________
Golfers on Golf Radio this morning at 10 AM on Am 820 WCPT or listen live online at Wcpt820.com watch at Facebook Live at WCPT, if your on the course or now even the range, put on your Tune in Radio APP on your phone and search WCPT820. If you miss the show and need a mulligan try Soundcloud.com/Chicagosprogressivetalk.
This morning the show will focus on the cancellation of the John Deere Classic, we will hear from JDC tournament director Clair Peterson.
Quad Cities area golf writer Tom Johnston joins us live from Moline on the loss of the tournament in 2020.
We will hear from Illinois Golf Hall of Fame inductee Len Ziehm on the return of Eagle Ridge Resort in Galena.
Wisconsin Golf professional and Mr. Erin Hills Rich Tock joins us live from from the Milwaukee burbs, with more on the full reopening of Erin Hills on Monday. 10 Am WCPT Am 820. Join us.