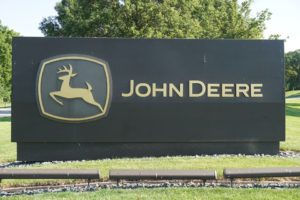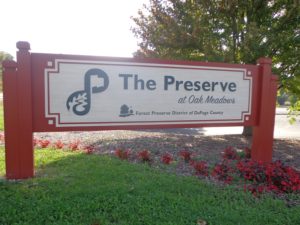 THE JOHN DEERE CLASSIC Scheduled for July 6-12 has been cancelled. For more information see Johndeereclassic.com or listen to Golfers on Golf Radio tomorrow Sat. at 10 AM on WCPT Am 820 or Wcpt820.com or watch on Facebook. THE PRESERVE at OAK MEADOWS is welcoming golfers back in full today, as the clubhouse goes up.    _____________________________________________________________________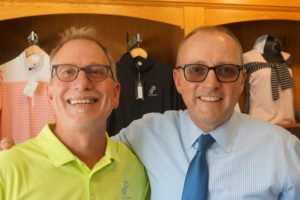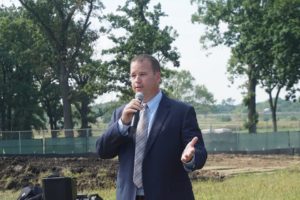 Preserve at Oak Meadows in Addison new clubhouse architect Dan Wohlfeil along with DuPage County Forest Preserve District executive director Ed Stevenson, in the pro shop at the new clubhouse ground breaking in September of 2019 (L). Daniel Hebreard, DuPage County Forest Preserve District board president addresses those in attendance at the ground breaking ceremony (R).
Last September 17th the DuPage County Forest Preserve District held a ground-breaking ceremony at the Preserve at Oak Meadows. Crews have worked all fall, winter, and this spring through the Covid-19 virus times, to continue moving forward with the construction of the new clubhouse.
This past week, steel beams started to rise in the air, and construction started on the new starters shack by the first tee, and the new bag drop between the clubhouse and the pro shop building.
Golfers who arrived to golf at the Preserve this past Wednesday, got to see clubhouse construction start to come out of the ground.
The steel work started mid-morning as the new clubhouse work above the ground started moving-upward.
There had been hope at the ground breaking last September, that with some luck from the weather the new clubhouse might be able to open by the end of August this year. But due to the weather, especially a wet spring, projections are now looking more towards late October.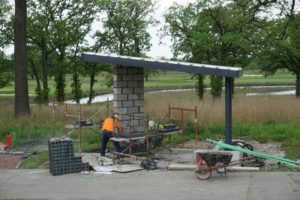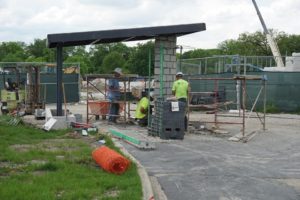 THE NEW STARTER'S SHACK is starting to take shape next to the first tee (L). The new bag drop and welcome area in front of the clubhouse and pro shop, is now under construction (R).
More good news for the Preserve at Oak Meadows golfers, is that the golf course renovations by architect Greg Martin held up during the recent heavy rains and flooding. Combine that with limited play from Covid-19 restrictions and the Preserve at Oak Meadows is in great condition as foursomes and carts return. The practice area's are in mint condition, as today will be the first day anyone has hit shots from those areas.
CLICK HERE TO HEAR the interview with Preserve at Oak Meadows head golf professional Jamie Nieto.
For more information on the Preserve at Oak Meadows, Maple Meadows or Green Meadows visit DupageGolf.Com