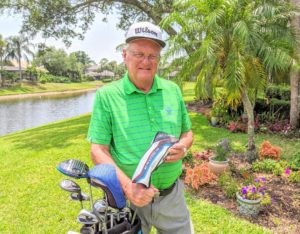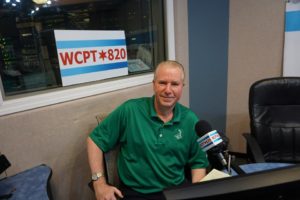 LEN ZIEHM (L) at PGA Village in Port. St. Lucie Florida, and Daily Herald Golf Columnist , (R) RORY SPEARS host of Golfers on Golf Radio at WCPT Am 820-Chicago Saturday Mornings at 10 AM. Continue our 2020 Podcast Series with Vol. 11.    ______________________________________________________________________
CLICK HERE to hear Ziehm and Spears Podcast Series 2020-Volume 11.
Hear 2019 Illinois Golf Hall of Fame 2019 Inductee Len Ziehm, along with long Chicago area golf journalist, reporter and broadcaster Rory Spears, talk the state of golf in Illinois with a touch of sunshine from Florida added in.
Among our topics include the larger scale reopening of golf in Illinois, that has struggled behind the curve in recent months. The TV charity golf events from Florida, the reopening of the flagship golf destination property in Illinois, Eagle Ridge in Galena.
The full reopening of Blackberry Oaks in Bristol after flooding. Plus an update on the Preserve at Oak Meadows and the new clubhouse that is coming out of the ground. All this and more, listen in. Len and Rory.