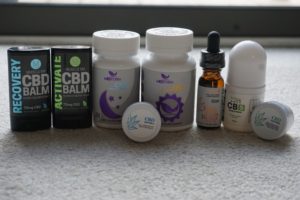 CBD AND CB5 PRODUCTS are now making an impact in golf, for golfers at all levels.    _____________________________________________________________________
IT BECAME OBVIOUS at the 2020 PGA Merchandise Show, that CBD or CB5 products were here, and they are here to stay.
There were several booths around demo day, and more in the convention center.
All it took was one of our website posts about CBD products, and Golfers on Golf started to hear from more CBD-CB5 outlets, to try products from their line.
After getting time off due to the Covid-19 Virus, it allowed me time to start testing these products. If things didn't go well, at least I was at home and could take the actions needed while recovering. I do have Hayfever and a few food allergies, so I did not know how my body would react to any CBD or CB5 products that I would try. After testing a variety of hemp pills, gum, tincture and roll-on products, here is my report. Do remember that like most products you consume or apply to your skin, your body might react differently than somebody else's. What worked for me, might not work for you, and vice-versa. Hopefully any CBD or CB5 products you try, will work for you-RORY SPEARS.
WHAT IS CBD and CB5, it's short for cannabidiol, which is a chemical compound that come from the cannabis (marijuana) plant, but it's not marijuana. It's a substance that gets used in products like oils or topical's that can address pain issues, anxiety, sleeplessness or seizures.
HOW IT OPERATES-CBD companies say that CBD opens receptors in your body's own endocannabinoid system. When it works properly, CBD should help you relax and improve your focus, body and mind. Helping reduce anxiety, and working as a sleep aid. It reduces muscle fatigue, soreness, and injuries. It should reduce joint pain, and improve your motor functions.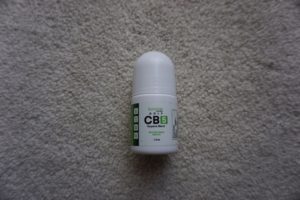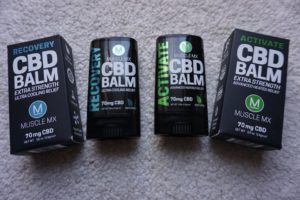 My first venture into usage was with CB5 Boomer Naturals, that now has a partnership with Tommy Bahama, comes after pulling or straining rib cage muscle while moving furniture in my home. Two weeks of Advil, Aleve and rest helps, but doesn't end the discomfort. So I switch to a roll-on CB5 of Boomer naturals and after 48 hours there is progress. To try more products for this review, I then switched to two treatments per day, for two days. One with CB5, and one with CBD Activate Balm by Muscle MX. 48 hours later I am pain free, and feel the best I have felt in some 2 1/2 weeks.
My pain free health is short lived as the corona virus is shutting down the country. So to get exercise during our governors "stay at home" order, I take to running the stairway in the building of my condominium.
Day 3 of my running the stairs-plan, I strained a calf muscle. After starting immediately with the Muscle MX Recovery (cooling) roll-on, that night I apply Muscle MX Activate (heating) roll-on. The next day I feel better already. So I also roll on CB5 Boomer naturals twice. By the next day my calf feels good, and I'm back on the stairs after applying Muscle MX Activate, and post run I apply Muscle MX Recovery. I have had no issues or pain since, and having been back running my stairwell everyday.
CLICK HERE to hear our 2020 PGA Merchandise Show Interview with Clark Bateman of Muscle MX.
I must give both Muscle MX and CB5 naturals roll-on's and outstanding rating for recovery from muscle strains, or pulls. They are not greasy and easy to apply, but the Muscle MX products do give off some "balm like" smell.
AFTER WORKING WITH BOOMER natural, they sent additional CB5 products in the form of gummies and tincture.
The CB5 gummies do really taste great, but I'm not sure if they are less filling. You must remember they are not just candy, and you should not eat them by the handful, no matter how tempting it is.
I started with the PM gummies in Blueberry for a relaxing sleep, and that's exactly what I got. What I like'd the most is after taking one, was that I could still finish watching a program or movie without falling asleep. I slept through the night and woke up refreshed. I would then take a Raspberry AM gummie with breakfast, and it brought me into the day at a good pace. It won't hit you like a sugar rush and then crash you into the need of a nap 4-5 hours later. After using up the gummies, I started using the CB5 tincture with the eye-dropper putting drops under my tongue. I felt like a gained a little energy using it every day for over a week. The Cinnamon flavored tincture is the best tasting tincture I have tried so far. Straight tincture doesn't taste great. So when you can, try to get tincture in some variety with flavor.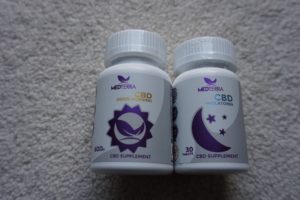 MEDTERRA GOOD MORNING & GOOD NIGHT (L)-PARFORM CBD GUM (R)
Medterra Gel Caps, for the morning, and Tablets for the night. The Medterra good morning gel caps were a winner for me. When I took them, it pushed me into the day at a good pace. There was no feeling of a sugar-rush, but in under an hour I went from feeling sluggish, to alert and focused and ready to move forward into my day. I give them a very good rating. Unfortunately I did not have the same success with the good night tablets. I would find myself waking up at 3 to 4 Am, and sometimes with a very slight headache. I never settled into a good routine with them, and stopped using them after taking 5 tablets in five nights.
Parform CBD Gum looks like a small white cheese block on cheese platter. The gum itself comes in several flavors ( I tried Grape)  and it tasted very good. If there is any disappointment, it's that the flavor evaporates quickly, and faster than the taste of regular gum. But it did provide enough energy that when I would chew it after lunch, it would keep me from having that mid-afternoon energy crash that can hit when you're having a full or demanding day.
CLICK HERE to hear to the interview with Rick Weissman from High Falls Hemp.
High Falls Hemp comes from High Falls New York. Owner Rick Weissman was honest at the merchandise show when he said that tincture doesn't taste very good. Weissman was correct, it doesn't taste great when it's not flavored.
The High Falls tincture I received was not flavored and while it wasn't really bad tasting, it didn't taste as good as the cinnamon flavored tincture from CB5. I can't say that I really felt any positive effects from the High Falls tincture, but I didn't have any adverse effects either. I stopped using it after a week.
What I did like from High Falls, was their lotion and the soft gel capsule options. The soft gels left me feeling good, while focused and alert through out the day. The lotion on my knees and hamstrings worked wonders after a few long walks around golf courses. 
Summing up my trials with CBD and CB5, most of the products helped me when I needed them to. Do remember that these products will have different effects on everyone. But I would recommend them to golfers looking for better health, both on and off the golf course. Stay healthy-play more golf.
CBD and CB5 are starting to be sold in many pro shops and golf retail stores, several tour professionals are starting to do endorsement deals with CBD and CB5 companies.
You will hear more about them, as the bigger names in golf sign promotional deals. In the meantime, read the products websites for more information. The companies that sent me samples, did not send me their full line of products to try. So other products by these listed above companies could have had good or bad results for me. Some of them I might try in the future. You still must determine what works best for you, but if your looking for something that can improve your wellness program. I would try a variety of the CB5 and CBD products currently on the market.