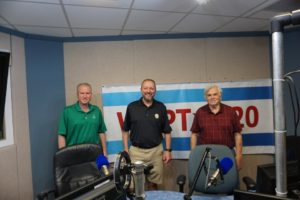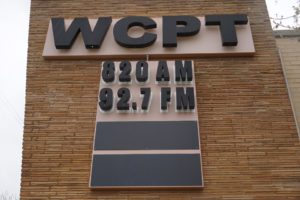 GOLFERS ON GOLF RADIO (L-R) Rory Spears, Ed Stevenson and Bill Berger, at our new home for 2020, WCPT AM 820-Saturday Morning's at 10 AM-you can listen live at Wcpt820.com or watch us live on Facebook. The Tune-In APP search WCPT-820. if you miss the show, the replay is found at Soundcloud.com/Chicagosprogressivetalk.       _____________________________________________________________________
NORMAL-does anyone really know what that is anymore. These days it's been called the "new normal", what is that. What I do know is that, it's a term most folks want removed from the daily vocabulary. I can't blame them.
I'm done with the virtual this or that or having a meeting on Zoom or Skype. Watching people in four different video boxes on the side of my computer screen. That is until they cut-out, or try talking and you can't hear them.
Mask's, are they worth it ? The construction workers video was informative, the one that said your mask isn't helping you from getting Covid-19. Dust particles are bigger than Covid-19 virus germs, and masks don't keep all the construction dust out of the mouths of the crews building that new home, road, business or clubhouse. Consider that for moment.
Which leaves us looking ahead to this Friday May 29th, when golf starts to get back to normal in Illinois. Not totally, but a good sized step in the right direction. Foursome's are back, carts can go out with minor restrictions, ranges are open at 50% capacity. Lessons can happen and it sounds like fore-caddies are an option. There is progress with a few customers being able to enter the pro shops, you won't have to pay on-line. Need food or a cold-one of choice. That will happen on a smaller scale, but it will happen. Even more bathrooms should be available. With such little play so far, your favorite course or club, should have close to mint-like fairways, with very few divots.
THAT IS if the grass, greens, tees and bunkers aren't recovering from last weeks floods. Several courses were hard hit, in many cases it's the courses that always flood, and never do anything to improve the situation. Even if your course was built in a flood-plain, there are options for improvement.
BY THIS WEEKEND-there should finally be enough tee times to go around. Just keep your hands off the flag stick. It's time to support our golf courses and that have been stuck behind the curve, and watching their business drive across the border, and not drive down the fairways on courses in Illinois.
LEN ZIEHM of LenZiehmongolf.com and the Daily Herald has posted a column on the charity match from this last Sunday. It did raise $20 million for charity, and that's great, but pace-of-play was over 5 hours for 1-foursome with nobody in front of them. Where was the ranger ? Hopefully that pace is not some form of "new normal" and won't set golf back 20 years.
The foursome of Tiger Woods and partner QB Peyton Manning, jumped out to a quick 3 UP lead after 5 holes, and then did nothing for the last 13 holes in holding off Phil Mickelson and partner QB Tom Brady to win 1 UP. Played on Tiger's home course the Medalist, did you know it is Tiger's home course. Sure you did, the audience was only reminded of that almost every hole.
THE PROFESSIONAL TOUR'S return in just a few weeks, and fans or no fans, they can't return soon enough.
IT WAS tough having to hear that the Radix Cup at Oak Park Country Club scheduled for June 10th has been cancelled. Too bad, it could have been a great event used to raise money here in Illinois for Covid-19 relief. Are the only Covid fundraisers going to take place in Florida. There are enough causes here in Illinois that could use some bucks right about now. A golf fundraising event here, might score the industry a few points with the local politicians in the Land-of-Lincoln going forward. Think about it.
IT SOUNDS LIKE many of the golf destination properties are starting to fully reopen, golf, rooms, ranges and restaurants. Visit the websites of your favorite resorts for updates on your golf travel for some point this summer. But again, lets help out our Illinois courses for a while first, before we cross state lines. There has been enough of that going on for the last two months.
I KNOW social media gets crazy at times, especially Twitter. But it was really sad to see the amount of people that complained on Saturday about President Trump playing golf on social media. Is your life that pitiful that you have nothing better to do on a holiday weekend, then to go on Twitter or Facebook and complain about President Trump playing golf. The amount of Covid-19 cases or deaths won't change, whether the president is in the White House meeting with Doctors, or on the tee at one of his golf courses for a few hours. This past weekend, the sun was out most of time, except for when the storm blew through on Saturday. Plus the temperatures were in the 80's, some folks even had to put on the A/C in their clubhouse for the first time in 2020.
The Gog Blog will return all week, Ziehm and Spears Podcast Series 2020-Volume 11 comes out on Thursday afternoon. In the meantime, lets get ready to fill-up the tee sheets and ranges at our local golf courses.
Golfers on Golf Radio is back on the tee at 10 Am, on WCPT-AM 820 this Saturday. I hope you can join us, even if your on the golf course. Get the APP. RS