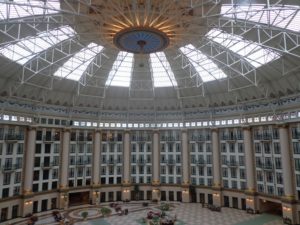 THE WEST BADEN HOTEL at the French Lick Resort, in French Lick Indiana, is starting a phased-in reopening of rooms. See Frenchlick.com for more information. ERIN HILLS is now open for the season. See Erinhills.com for current golf information.   ____________________________________________________________________
RAIN-RAIN please go away. It's bad enough that golf courses have had to deal with the restrictions because of the Covid-19 Virus, but add on these flooding rain storms, and the outlook gets even worse.
Most courses today on Monday May 18th, are closed, or putting out golfers onto very soggy fairways. Regardless of how good the drainage is, at any course.
Blackberry Oaks in Bristol Illinois, and course general manager and head golf professional Chad Johansen have been among the hardest hit by flood waters. It's sad. Ask any Illinois PGA member who one of the hardest working section members is, and they will tell you Johansen, who is a tireless promoter of the game, and grows the game with kids as good as anybody in the State of Illinois. All Johansen could say on social media today is, he didn't know when Blackberry Oaks could reopen. Hopefully it will be sooner, than later.
There were more courses in addition to Blackberry Oaks that were closed today, some will still be closed tomorrow. Hopefully things dry-out by the weekend, and those reported 80 degree temperatures for this weekend. actually happen. Golf in Illinois needs a good dry weekend, with a minor heatwave attached.
CLICK HERE to hear thoughts from Len Ziehm about the cancellation of the Illinois State Amateur and the Chicago District Golf Association (CDGA) Amateur.
I have to admit that I was surprised about the cancelling of the two championships at this point on the calendar. I would have enjoyed a 1-Day shootout at several clubs, to see who qualifies for the field in early July. Kind of like the first two-days of the NCAA basketball tournament #Marchmadness. CDGA-please reconsider.
Len Ziehm the Daily Herald golf columnist, will join us live this Saturday on Golfers on Golf Radio on AM 820 WCPT, about 10:30.
Ziehm posted today on his website Lenziehmongolf.com a feature about the return of live to television yesterday. Check it out.
The TaylorMade Golf Driving Relief event saw Rory McIlroy and Dustin Johnson win a 19th hole, closest to the pin contest over Matt Wolff and Rickie Fowler, to win the over-all money total that was donated to Covid-19 Relief charities. It was nice to see the historic Seminole Golf Club on television for the first time. But after watching one event in this style, I'm not so sure I want to watch another one next weekend regardless of who is competing.
CLICK HERE to hear the Golfers on Golf Radio interview with golf architect Bobby Weed, designer of Michael Jordan's new Grove XXIII golf club in Hobe Sound Florida.
This past Saturday, architect Bobby Weed the designer of the new Grove XXIII golf club, Michael Jordan's golf club.
After doing some work at the neighboring Medalist Club, Weeds efforts caught Jordan's eye. That along with a few other recommendations of Weed from golfers Jordan knew, landed Weed the job of walking through dirt-piles with Jordan during the construction phase of Grove XXIII.
Weed moved downstate and lived on the property as Grove XXIII took shape.
All of us at Golfers on Golf enjoyed having Weed make his Chicago media debut on the creation of Michael's golf course with us. According to Weed Grove XXIII doesn't look a traditional Florida style golf course. To see some great pictures of the course, check out today's online posting of Links Magazine.
THE USGA has made some announcements today in regards to not having U.S. Open qualifying this year, what championships will be held and under what guidelines. For more details visit USGA.org.
I will be monitoring course conditions this week, and hope to gain some insight on what the Governor and the State of Illinois are considering on golf restrictions, once we get past the Memorial Day weekend.
THE GOG BLOG returns all week. RS