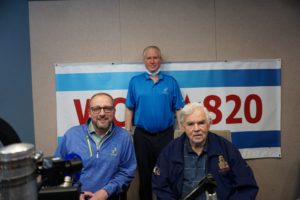 ERIN HILLS IN ERIN WISCONSIN-Land of the Free, opens for the season on Monday May 18th, see Erinhills.com. Golfers on Golf Radio tomorrow morning at 10 AM on Am 820 WCPT or WCPT820.com or on Facebook-Live, The Tune in Radio APP-Search WCPT 820, or Soundcloud.com/Chicagosprogressivetalk Join Ed-Rory & Bill #WCPT.     ____________________________________________________________________
BOOK CLUB- IF YOU HAVE a little too much time on your hands these days, as you sit inside during home quarantine, now could be time to catch up with your reading, and by sitting down with some great golf books.
The virus era, has given many golfers a chance to catch up on their reading of golf materials. Here is my list of some good books to check out, if your grounded at home with time on your hands, and a lack of tee times, due to twosomes only in the State Illinois.
MENTORED BY THE KING by golf professional Brad Brewer.
Brewer in many ways was the right hand man to Arnold Palmer for years. Brewer was selected by the King himself to run the Arnold Palmer Golf Schools.
The book has plenty of chapters or should we say, "Lessons from the King" as Palmer explained himself to Brewer over the years. Brewers Golf Academy is located in Orlando Florida. Brewers staff includes one of Florida's top teaching professionals Chris Spalla.
THE PGA OF AMERICA Centennial Book that came out a few years back, in time for the PGA's 100th year.
It's a great read, with forwards from both Jack Nicklaus and Annika Sorenstam.
The history of the PGA is well explained, and for Chicago area readers, they might enjoy how much of the story line relates to PGA pro's and events in the Chicago area.
A GOLDEN 18, if you enjoy following the only #GOAT in golf, you might enjoy seeing the inside of 18 of the best courses that Jack Nicklaus ever designed.
How they came to be, how they run and operate today, and comments from the people that make them go. Plus how a membership at the clubs on the private list in the book, is enjoyed at the club.
The cover of this book can change but on the book pictured above, Harbor Shores in Benton Harbor Michigan, is open for public play, and currently home every other Memorial Day weekend to the Sr. PGA Championship.
THE GOLDEN AGE OF PINEHURST, the Rebirth of Pinehurst No.2, is really a good read if you enjoy Pinehurst golf, and getting an inside look at the restoration of one of golf's great golf courses, and maybe the best work that Donald Ross ever created.
About 10 years ago the Pinehurst Resort entrusted Bill Coore and Ben Crenshaw to come in to bring No.2 back to it's roots,
Coore and Crenshaw hoped to "get it right" and had the pressure of back-to-back U.S. Open's coming up in 2014. Hear from Bill-Ben and USGA CEO and Executive Director Mike Davis, as the work progressed.
How to purchase any of these books. Use traditional channels online. Pinehurst now has an updated copy of this book, done by Lee Pace after the 2014 U.S. Open. See Pinehurst.com for details.