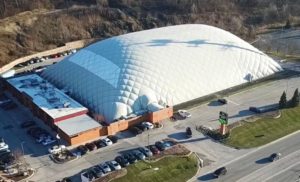 Mistwood Golf Club in Romeoville (L)-Mistwood Golf Dome in Bolingbrook (R). Updating on Mistwood Golf Club opening tomorrow 3-27. In the meantime McWethy's Sports Bar and McWethy's Tavern, are open for curb-side pickup if your looking for great food. ______________________________________________________________________
THE CALLAWAY MAVERICK DRIVER, is not just a driver, it's really three drivers. Then there are more options, which include Maverick fairway woods. You need more, yes there are Maverick Irons.
Callaway has outdone itself again. Three years ago they introduced the Epic Driver, it was a winner. that got followed up with the Rogue Line. Another winner. Last year it was the Epic Flash Driver and fairway woods.
By developing what they have over the last few years, Callaway has put itself in a position of "can you top this". The answer again is, YES.
Mavrik is the yes in AI. Artificial Intelligence. But Mavrik is more than just one driver, the options are fit for every club in your bag, and it plays to the best part of your game, while making it better. It doesn't matter what type of ball flight you have, what your swing speed or handicap is, Mavrik can work for you and your game. It will make you better. If your thinking new clubs in 2020, don't buy anything else until you at-least, test Mavrik.
When Epic Flash came on the market, it was the first driver created with Artificial Intelligence and Machine Learning. It was the # 1 selling driver in 2019.
That led the Callaway R& D Team to push things to another level. They went looking for an even greater amount of distance, more forgiveness and consistency. The new Mavrik had the benefit of being designed by Callaway's new supercomputer. This new computer allowed the Callaway design team to have an even better understanding on how to take drivers to a place, that none had gone before.
The new Flash Face SS20 design has a thinner face, but a more expansive hitting area for a greater ball speed.
Callaway's supercomputer ran thousands of prototypes over weeks to arrive at the design for the new Mavrik.
What also emerged with Mavrik's design, was the need for a tougher and stronger material to handle impact. So Callaway has introduced the FS2S titanium in the club face. This high grade titanium is 6 grams lighter that traditional materials found in drivers.
While Callaway is adding what's new to Mavrik, they has kept some of what's recent and proven.
Jailbreak and the T2C Triaxial Carbon Crown. Jailbreak are the two bars behind the face that connect the sole to the crown which generates faster ball speed. The T2C carbon crown, is lighter than a traditional titanium crown, and that gave the engineering team an opportunity to redistribute weight, for better forgiveness.
Click here to hear the interview with Callaway Product Marketing Manager Steven Sourigno, on the full line of Maverik Clubs.
Mavrik Driver comes in lofts of 9-10.5- and 12 degrees, with pricing set at $499.00.
MAVRIK is just not one driver, it's three. If your drive to the fairway requires something different, there is the Mavrik Sub-Zero Driver. This driver offers a combination of low spin and high MOI. Sub-Zero has a slightly smaller head (450cc), with two interchangeable screws front and back, to change the launch angle and spin rate. It comes in 9 and 10.5 degree lofts. The titanium rib-system found on all Mavrik drivers, allows for a deeper and satisfying sound at impact.
MAVRIK MAX DRIVER is option three in the Mavrik driver line. This long easy-to-hit driver reduces slice off the tee, because it has the largest draw bias capability. MAX has two interchangeable weights, 14g and 2g. They are positioned in the sole near the heel and center-back. A heavier weight in the heel of the club promotes a maximum draw ball flight. Comes in lofts of 9-10.5 and 12 degrees.
The Mavrik line of clubs has moved past being only drivers. It's now available in fairway woods and irons. For more information visit Callawaygolf.com.