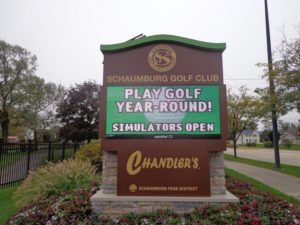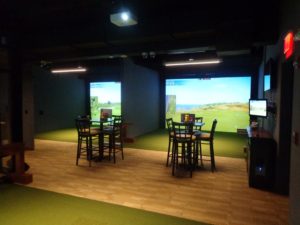 THE SCHAUMBURG GOLF CLUB at 401 North Roselle Road is home to a simulator golf cave, that has made the club a year-round golf facility that golfers are enjoying. With Schaumburg's outdoor nine's undergoing a three year renovation, the simulators give you a chance to have your game ready for summer golf, when the second nine the Baer Nine reopens around July 1st. Play golf at TPC Scottsdle and TPC Sawgrass, and the 2020 Ryder Cup venues. Schaumburggolf.com or call (847)-885-9000 for tee times.  ______________________________________________________________________
(Reporting from Demo Day at the PGA Show, Orlando Florida)
The comeback is on, and that's great news for Chicago based Wilson Golf that has sales on the rise, and golfers being impressed by the product that has been coming out on the market.
Wilson's Driver vs Driver shows have been a stroke of genius by golf division president Tim Clarke. The current winning Driver the Cortex, is so popular that the initial product run that Wilson did, has sold out in less that 60 days.
Clarke says he can't speak to what might be happening next in the golf reality show front, but hints to watch for an announcement about what might be coming next, over the next few months.
The Cortex might have had demo day goers lined up to hit the Cortex or take the Wilson Golf distance challenge, but there was other things for Clarke and Wilson to be happy about. There are improvements in the Wilson fairway woods, Irons and golf balls.
Wedges seems to be area where Wilson might not yet stack up against other leading companies in the industry, so maybe Wedge vs Wedge could be next.
Adding to the Wilson professional staff was another one of Clarke's goals for 2019, and he landed a top 20 PGA Tour player in Gary Woodland. Woodland put Wilson products in his bag at the PGA Tour real season opener at Kapalua the Tournament of Champions, and Woodland had the lead after three rounds, played great in the final round but fell to second place. But still not a bad finish at a big event for the first week of having new clubs in the bag.
Woodland did not have Cortex in the bag that week, but there is still a chance that could happen this year, Stay dialed in.
Click here to listen to the interview with Wilson Golf President Tim Clarke, about new clubs, golf reality television, and new exciting staffers.
Clarke is also excited about the fact that long time Wilson staffer Padraig Harrington will serve as the 2020 team Europe Ryder Cup Captain at Whistling Straits.
Wilson Golf is making a comeback and selling well in the market place, find out all the details at Wilsongolf.com.