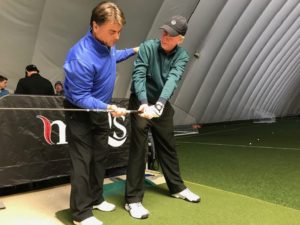 HE'S BACK-Mistwood Golf Club and McQ's Golf Professional Dan Phillips is back teaching golf again, after building marketing plans for both properties. Contact Phillips at McQsdome or Mistwood Golf Club (815)-254-3333 for lessons, club repair/fittings. CALLAWAY GOLF still improving the 2017 Driver of the Year, NEW EPIC 1-16-2018.      _____________________________________________________________________
THE GOG BLOG by Director of Content RORY SPEARS.
Follow Rory on Facebook, Linkedin and Twitter @GogBlogGuy
The 2017 BMW Championship had multiple winners, first up there was tournament winner Marc Leishman, and alongside Leishman was the Western Golf Association and the Evans Scholars . The numbers are in and the BMW Championship raised over $2.6 million dollars for the WGA/ESF.
The 2017 BMW Championship played in September at Conway Farms saw over 115,000 fans come out to see the Chicago area's premier golf championship. As a result, the BMW Championship has now raised over $27 million dollars for the Evans Scholars Foundation.
During the championship if a player makes a hole-in-one BMW donates a full ride 4 year scholarship worth $100,000. This year Jason Day made ace on the Par 3, 17th hole with a 7-Iron from 188 yards in the second round of tournament play. As a result, it became the fifth time during the tournament since 2008, that BMW has awarded the scholarship.
By making the hole-in-one Day received a BMW M760i, which he donated back to the Western Golf Association and the ESF to help raise additional money.
Additional money was raised for the ESF, when BMW donated $50,000 in honor of caddie Jim "Bones" Mackay who was inducted during tournament week in to the Caddie Hall of Fame. Mackay until earlier this year, worked 25 years as the caddie for future Hall of Famer Phil Mickelson.
"During this season of giving, we're proud to once again donate the proceeds from the BMW Championship to such a worthy cause," said Vince Pellegrino, WGA Senior Vice President of Tournaments. "The tremendous support we received from our partners at BMW, as well as Chicagoland golf fans and the local and regional corporate communities, helps ensure the Evans Scholars Foundation is able to continue awarding full tuition and housing scholarships to caddies."
This year Conway Farms hosted the BMW Championship for the third time in recent years, the walking only club has had more than 25 Evans Scholars enter the ESF program.
In 2018 the BMW Championship moves to the Philadelphia area and the Aronimink Golf Club in Newton Square Pennsylvania from September 4-9 in 2018. It then returns to Chicago in 2019 and will be contested at the Medinah Country Club, in suburban Medinah Illinois.