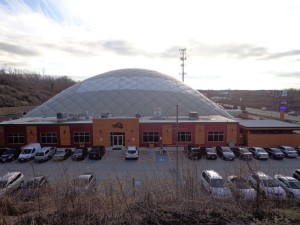 MCQ'S DOME in Bolingbrook, Chicago's Premier indoor golf facility. McQ's is a golf dome, 19th hole restaurant and sports bar, and a horse racing OTB, all rolled into one. So when you need a winter golf and fun day getaway, mcQ's is the place to go. McQ's now has a holiday sale that starts tomorrow at 7 AM through 8 PM. All this week 9 Am to 8 PM and next Saturday 7 Am to 8 PM. Over $100,000 worth of merchandise in some cases is now 70% off. Equipment and golf wear from ALl the top companies. The 2017 items must go, in order to make way for the new 2018 goodies. #giftcards for not only McQ's, but for MISTWOOD Golf Club as well. In some cases you earn a free gift.    _____________________________________________________________________
THE LOCAL BOY STAYS LOCAL.
Winfield native Kevin Streelman who grew up learning the game at Cantigny Golf, and now is playing on the PGA Tour, has re-upper his equipment deal with the Chicago based Wilson Golf sporting goods.
Streelman a winner of over 16 million dollars as a touring professional, first joined Wilson Golf in 2011, and his new contract with Wilson will keep him with the company until 2019.
"I trust Wilson Staff to provide me with the very best in equipment as I continue to compete with the world's best," says Streelman. " I also know that Wilson has the utmost confidence in my golf expertise to provide feedback and aid them in the research and development of new products. I am thrilled to be continuing my very successful partnership with the Wilson Golf Staff and I am excited about what's to come."
Streelman joins other Wilson Ambassadors including 3-time major winner Padraig Harrington, 3-time PGA Tour winner Brendan Steele, and other American players Troy Merritt and Ricky Barnes.
"Kevin Streelman's importance to Wilson Staff over the years has been immeasurable," said Tim Clarke, President of Wilson Golf. "His presence as an ambassador has been critical as we at Wilson continue to solidify our presence as one of the world's finest golf brands. Streelman's dedication to the research and development of our latest products helps us bring the very best to the marketplace, each and every year."
In 2018, Streelman will continue to play Wilson's highly recommended FG Tour V6 Irons and PMP wedges.
What Streelman currently has in his golf bag includes the FG Tour V6, 3-9 PW. Wedges, the FG Tour PMP 48* Traditional, FG PMP 54* Traditional, FG Tour PMP 60* Traditional.
Streelman previously served as a judge on Wilson's Driver vs Driver reality club design show last year, and is expected to be a part of the next Wilson Golf club design program that is in the works.
For more information o Wilson Golf and Wilson products, please visit Wilson.com.