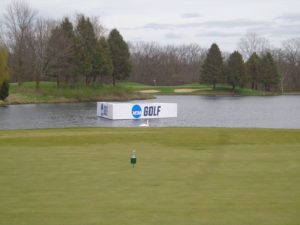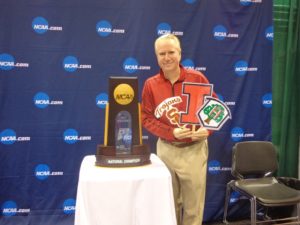 THE NCAA NATIONAL CHAMPIONSHIPS AT RICH HARVEST FARMS in Sugar Grove. The Women's Championships are underway. Well priced tickets are for sale at NCAA.com/Tickets or through the Rich Harvest Farms website. You can now purchase them when you arrive at Rich Harvest Farms. Great golf today in cold, wet conditions.     ______________________________________________________________________
NORTHWESTERN AND THE PURPLE CATS are a top the leader board after day 1 of the Women's NCAA Division 1 golf championships.
It was solid day of golf for Northwestern on a cold and rainy day, where play never stopped like it did at the baseball game downtown.
Northwestern head coach Emily Fletcher could not have been "more proud" of her ladies after the first 18 holes.
Fletcher and her players admitted they had some "pep talks" this past week from Wildcats head football Coach Pat Fitzgerald, and men's basketball coach Chris Collins. Both coach and players said those talks meant a lot.
Click here to hear the interview with Northwestern head coach Emily Fletcher.
In a round that took NU players almost 7 hours to complete, saw Hannah Kim hit the final putt of the day for the cats as daylight was running out at 8:13 PM local time time. Kim layed up on the par 5, 18th hole, and then from about 110 yards, nailed a wedge to 3 feet and made one of the five birdie putts on the 18th that was recorded all day. Scoring average for the day was recorded at 80.77. None of the Northwestern players scored 80.
Janet Mao 73 +1 is T-3, Stephanie Lau is at 75 +3 and T-9 with Kim. Nu's 4&5 players Sarah Cho and Kacie Komoto both shot 78 +6, and were T-33.
Click here to hear the interview with Soph. Janet Mao.
With a late start time on day 1, the Wildcats missed most of the rain that hit the morning schools, in fact after the rain left, the temperatures moved north about 5 degrees. Just two shots back of Northwestern is Kent State in second place. Kent States players paired with NU players in the last five groups had a couple of bogeys on 18, and a par in the last group (compared to Kim's birdie) to allow Northwestern to take the lead.
Fletcher said her team didn't need to be told again about last year, after missing the nationals by 1 shot. Fletcher said her team "realizes how important every shot is". A quick reminder was Northwestern's men's team missing out on this years nationals by shot after losing in a playoff.
Four schools are tied for third place, Arizona State, Stanford, Baylor and Ohio State. Purdue is 9th but Boilermaker August Kim and Michigan's Elodie Van Dievoet are the individual leaders after even par rounds of 72.
RICH HARVEST FARMS OWNER Jerry Rich was out watching the action and said he took the blame for the poor weather, admitting he was in charge of that. Rich said that even the priest of the catholic church across the street who's name is Bobby Jones, could not help with the weather either.
STAR ALUM'S in the crowd. LPGA stars Meg Mallon with Ohio State, and Furman alum's Beth Daniel and Betsy King were out supporting the players and their schools.
Northwestern tee times start at 8:30 Am for round 2, weather permitting. Golfers on Golf Radio on the tee at 9:00 Am tomorrow on Am 750 WNDZ. Illinois men's coach Mike Small is on the show at 9:10.